A mother and her young daughter, whose Twitter updates from besieged Aleppo have captured the world's attention, appealed to first lady Michelle Obama as the Syrian crisis continued to unfold Friday without intervention from the West.
"I talk to you as a mother," Fatemah Bana al-Abed said in a video message sent to NBC News. "I implore you to help us ... because we are so afraid."
The message ends with a plea from her 7-year-old daughter, Bana: "Hello, Mrs. Obama. Please help us."
Syria's President Bashar Assad has called their Twitter account propaganda promoted by terrorists or their supporters.
Speaking with NBC News via Skype late Thursday, Fatemah confirmed that she and Bana remain in the shrinking rebel-held pocket of devastated eastern Aleppo. The evacuation of civilians to the relative safety of opposition areas in Idlib and the Aleppo countryside stalled Friday after pro-government militias opened fire on buses carrying civilians, rebel sources told Reuters.
Families Prepare for Aleppo Evacuation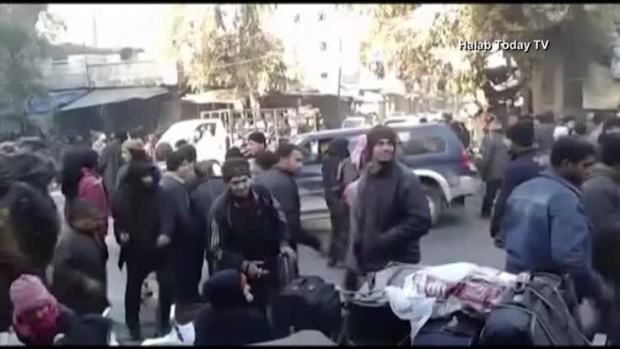 Get More at NBC News