Ninety-six years after women won the right to vote, Hillary Clinton became the Democratic Party's nominee for president on Tuesday, the first woman to represent a major political party.
"When women succeed, America succeeds," said U.S. Rep. Nancy Pelosi. Pelosi became the first woman to serve as speaker of the House of Representatives in 2007 and served in that role until 2011.
Here was that historical moment and others on the second day of the Democratic National Convention.
History Is Made
Democrats formally nominated Hillary Clinton for the presidency Tuesday evening, the first major political party to choose a woman as its candidate.
Her nomination ends two hard-fought primaries for her, the first of which she lost to President Barack Obama eight years ago.
The former secretary of state, New York senator and first lady sparks intense loyalty among her backers but also intense dislike, a legacy of the scandals that have plagued her long career.
Her name was placed in nomination in the afternoon by civil rights icon John Lewis, the congressman from Georgia, and Maryland Sen. Barbara Mikulski, the longest-serving woman in Congress.
"Eight years ago, our party, the Democratic Party, nominated and elected the first person of color to ever serve in the White House not just for one term, but two terms," Lewis said. "Tonight, tonight, on this night, we will shatter that glass ceiling again."
A Look Inside the 2016 Democratic National Convention
Mikulski, who will retire this year, said, "On behalf of all the women who've broken down barriers for others, and with an eye toward the barriers ahead, I proudly place Hillary Clinton's name in nomination to be the next president."
South Dakota put her over the top in votes.
WATCH: Larry Sanders Casts Delegate Vote for Brother Bernie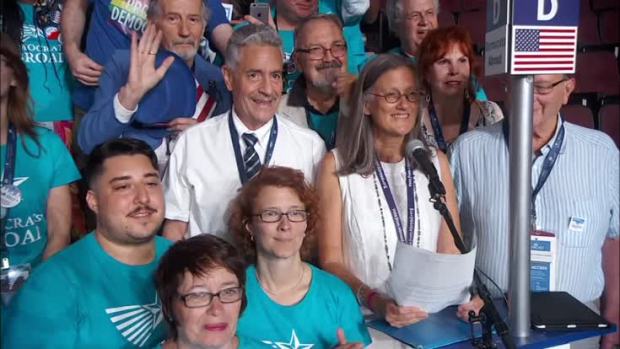 The last state to cast its votes was Vermont, the home of her rival this year, Sen. Bernie Sanders. He said: "I move that Hillary Clinton be selected as the nominee of the Democratic Party for president of the United States."
"The Best Darn Change-Maker"
Former President Bill Clinton described his wife to the Democratic National Convention as the "best darn change-maker I have even known," a woman uniquely qualified to be president. But first he started with the story of how they met as students at Yale Law school.
"She walked the whole length of the library, came up to me and said, 'If you're going to keep staring at me' — and now I'm staring back — 'we at least ought to know each other's name. I'm Hillary Rodham. Who are you?'"
Full Remarks: Bill Clinton at 2016 DNC
He said he later asked her to walk with him to an art museum.
"We've been walking and talking and laughing together ever since," he said. "And we've done it in good times and bad, through joy and heartbreak. … We've built up a lifetime of memories."
Clinton's speech re-introduced his wife to Americans, detailing her legacy of work on behalf of civil rights, children and families. He talked of her starting a legal aid clinic in Arkansas, getting expanded health care for children after the first attempt at health reform failed, registering voters in Texas and serving as U.S. senator from New York and then secretary of state.
"Hillary will make us stronger together," he said. "You know it because she spent a lifetime doing it."
He said that Hillary Clinton worked with people with disabilities, helping to ensure they had equal access to education.
"She never made fun of people with disabilities," he said, a reference to the Republican nominee Donald Trump, who has been accused of mocking a reporter who is disabled. "She tried to empower them."
Bill Clinton asked: How does the woman he talked about square with the one described by the Republicans?
"One is real, the other is made up," he said.
If you're a hard working immigrant who obeys the law and loves the United States, choose immigration reform over a candidate who wants to send you back, he said. If you're a Muslim who loves the country and freedom and hates terrorism, stay here and help the United States win, he said.
"If you're a young African American disillusioned and afraid, we saw in Dallas how great our police officers can be, help us build a future where nobody's afraid to walk outside," he said.
At the end of the day's session, Hillary Clinton appeared by satellite and told the audience, "I can't believe we just put the biggest crack in that glass ceiling yet."
"And if there are any little girls out there who stayed up late to watch, let me just say: 'I may become the first woman president, but one of you is next.'"
Bernie or Bust? Bust, says Bernie
Earlier, Sanders worked to rein in his backers. A day after they jeered Clinton and protested the leaked emails that showed party officials working to torpedo his candidacy, the senator from Vermont worked to tamp down his die-hard fans' determination to keep fighting for him. On the second day of the Democratic National Convention in Philadelphia, he made the rounds of the state delegations and urged support for his former rival. Donald Trump needs to be stopped, he said.
"It's easy to boo," he told delegates from California. "But it is harder to look your kids in the face who will be living under a Donald Trump presidency."
Not all of his backers listened. Dozens of his delegates walked out of the convention, held a sit-in and pledged to leave the Democratic party in protest. They claimed that their votes had been stolen by the Democratic National Committee.
Black Lives Matter
A half-dozen women whose children were killed by violence, Mothers of the Movement, endorsed Clinton as a leader who would bring about change and who would support needed gun legislation.
WATCH: Moms Who Lost Children to Gun Violence Speak at DNC
Geneva Reed-Veal, the mother of Sandra Bland, pulled over in a traffic stop in Texas and later found hanging in a jail cell, said Clinton would lead the country to restoration and change.
"She knows that when a young, black life is cut short, it's not just a loss, it's a personal loss," said Reed-Veal, who has said she does not believe her daughter killed herself. "It is a national loss. It is a loss that diminishes all of us. What a blessing tonight to be standing here, so that Sandy can still speak through her mama."
The Texas trooper who stopped Bland was fired earlier this year.
Lucia McBath, whose son Jordan Davis was shot to death in Florida in a dispute over loud music, called the majority of police officers good people doing a good job. She urged building a future where police officers and communities worked together to keep children like her son safe.
"Hillary Clinton isn't afraid to say that black lives matter," McBath said. "She isn't afraid to sit at a table with grieving mothers and bear the full force of our anguish. She doesn't build walls around her heart."
The man who killed her son, Michael Dunn, was convicted of first-degree murder and sentenced to life in prison without parole.
Joining them was Sybrina Fulton, the mother of Trayvon Martin, killed by George Zimmerman, a neighborhood volunteer. Zimmerman was found not guilty of Martin's death.
"Hillary Clinton has the compassion and understanding to support grieving mothers," Fulton said. "She has the courage to lead the fight for common-sense gun legislation."
Love Trumps Hate
Actresses Lena Dunham and America Ferrera had some pointed jokes for Trump.
Dunham: "According to Donald Trump my body is probably like a '2.'"
Ferrera: "And according to Donald Trump I'm probably a rapist."
Dunham: "But America you're not Mexican."
Ferrera: "And President Obama isn't Kenyan, Lena. But that doesn't stop Donald."
"Love trumps hate," they concluded at the end of their speech.