A Dutch cyclist flipped off her bicycle in a horrendous crash, a U.S. women's volleyball pair was taunted with shouts of "Zika," and the U.S. ended a fencing medal drought on the second day of the 2016 Olympics. U.S. swimmer Katie Ledecky broke her own world record in the 400 meter freestyle.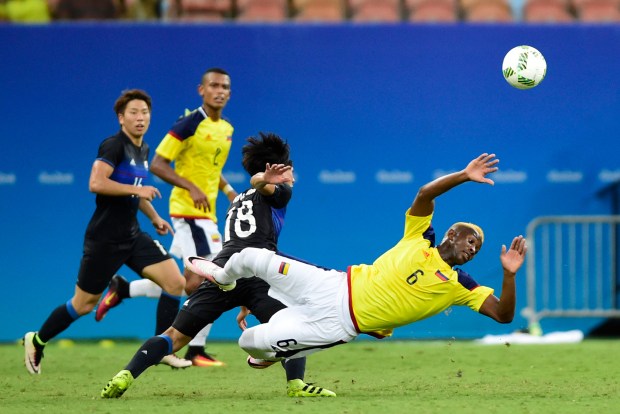 Day 2: Highlights From the Rio Olympics
In case you missed any of the nail-biting moments of competition, here are highlights from Sunday in Rio.
A Swimming World Record
American Katie Ledecky, 19, broke her own world record in the 400-meter freestyle, to win a gold medal. Her time: 3:56.46. She set her earlier record, 3:58.37, two years ago on the Gold Coast of Australia. On Saturday she was part of the U.S. women's team silver medal win in the 4 by 100 meters freestyle relay.
Ledecky, who will enroll in Stanford University in the fall, won a gold medal in her Olympic debut in London in 2012 when she was only 15.
Michael Phelps won his 19th gold medal and 23rd medal overall as part of the U.S. men's team in the 4x100 freestyle relay.
A Heart-Stopping Crash
A cyclist from the Netherlands, Annemiek van Vleuten, was racing downhill, in the lead for the gold medal at a curve in the road, when her tires appeared to skid out from under her. Van Vlueten, 33, flew over her handlebars and landed on the curb, her head on the roadway, and lay without moving as other riders passed her.
The Dutch cycling federation said she had a severe concussion and three small fractures to her spine. Later, van Vleuten tweeted, "I am now in the hospital with some injuries and fractures, but will be fine. Most of all super disappointed after best race of my career."
The race was won in a dramatic sprint by her teammate, Anna van der Breggen, who working with two others riders caught American rival Mara Abbott to win the gold. Van der Breggen passed her teammate on the way to the finish line.
Italy's Vincenzo Nibali broke a collarbone when he crashed on the same descent while leading the men's race on Saturday.
Hoops History
The U.S. women's basketball team scored 121 points to beat Senegal, a record-setting score in the team's first game of the Olympics.
The Americans won 121 to 56, beating the previous high score of 114, which was set in 1992 and tied at the London Olympics.
The United States is trying for its sixth straight Olympic gold medal.
Zika Taunts
Brazilians apparently unhappy with the attention given the threat from the Zika virus are taunting American athletes with chants of "Zika."
At beach volleyball at Copacabana beach on Sunday, a loud crowd shouted "Zika" at Americans Lauren Fendrick and Brook Sweat when they served against their Polish opponents. They lost their first Olympic match.
Hope Solo got the same treatment the day before. The U.S. soccer goalkeeper had posted a photo of herself on social media wearing netting and armed with insect repellent to guard against the virus linked to microcephaly in newborns. Solo was worried enough about the virus that she considered skipping the Olympics.
The U.S. beat France, the team's second consecutive win.
Fencing
Alexander Massialas ended a 32-year medal drought in men's fencing for the United States, winning a silver in Rio. Massialas, foil fencer whose Olympian father, Greg Massialas, is his coach, had been the heavy favorite to win a gold, but lost to Italy's Daniele Garozzo.
The last time the United States won a men's fencing medal of any kind was in 1984, when Peter Westbrook took a bronze. The last time an American man won in this event was 56 years ago. Albert Axelrod also brought home a bronze.
U.S Gymnastics Women Dominate
All five women earned a spot in either the all-around or events finals. Simone Biles and Aly Raisman will compete in both.
Gabby Douglas was third in all-around, but can't defend her title because Biles and Raisman finished ahead of her - and each country is limited to two qualifiers.
Olympic History
History will be made as U.S. team member Ibtihaj Muhammad becomes the first American to compete in the Olympics wearing a hijab. She makes her Olympic debut at 11 a.m. ET Monday.