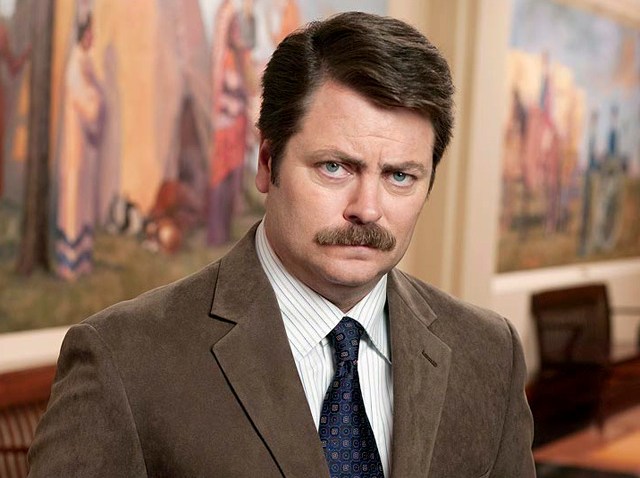 "Community" and "Parks and Recreation," perhaps the best tag-team of comedy quirk in primetime, return Thursday night ready to wrestle expectations that have only grown since their respective May season finales.

Both shows, initially greeted in 2009 with varying degrees of critical and ratings success, have built devoted audiences as each approaches the 50-episode mark. Both feature characters with burgeoning cult followings (anachronistic macho man Ron Swanson from "Parks" and pop culture savant Abed Nadir from "Community"). And both ensemble-driven programs have enlisted veteran performers (Patricia Clarkson in "Parks" and John Goodman in "Community") who promise new opportunities for humor, as well as expanded viewership.

So can two shows about characters struggling to fulfill their promise live up to this season's high hopes?

It's hard to know exactly what to expect from "Community," whose surprising leaps into the surreal – a bliss-inducing trampoline, a zombie attack, an oddly touching Claymation-style holiday special – have yielded some of the boldest and best half hours of TV comedy in recent years.

The show's strong cast includes Chevy Chase in the comeback role of a lifetime as Pierce Hawthorne, a wealthy codger whose consuming desire to fit in with a motley crew of community college misfits drives him to bizarre lengths (including sabotaging a kiddie anti-drug play). But the character taking off furthest beyond the screen is Danny Pudi's Abed, whose view of life through a cliché-clouded cinematic and TV lens gives "Community" magical meta moments (like his messianic movie about a filmmaker making a movie about Jesus).

Goodman, who is set to play Greendale Community College's new dean of air conditioning repair, seems set to bring a new sense of comic menace destined to shake up the school's fragile, blanket-fort of a sheltered world.

"Parks and Recreation" is rooted more in reality, even if some of its characters aren't. Amy Poehler's Leslie Knope is an endlessly optimistic, hardworking small-town bureaucrat whose dreams of building a park from a hole in the ground and becoming president share equal priority – and perceived achievability – on her endless to-do list. She faces a major conflict this season as she balances an opportunity to run for local office in Pawnee, IN, against possibly destroying her relationship with her soulmate in wonkism, Ben (Adam Scott).
But the show's undeniable breakout character is Nick Offerman's Swanson, a rugged meat-loving, government-hating career municipal manager with a mysterious past as saxophone star Duke Silver. The legend of Ron Swanson bodes to develop with Clarkson's debut as his dreaded ex-wife Tammy I (as opposed to the lustful and controlling former spouse Tammy II, portrayed by Offerman's real wife, Megan Mullally).

All this plays as weirdly funny as it sounds for both NBC shows, which are poised, we hope, for seasons that will spread their unique comic sensibilities to larger audiences. Check out previews of he off-beat sitcoms, which have grown in quality and quirk as they've grown on fans:

U.S. & World
News from around the country and around the globe
Hester is founding director of the award-winning, multi-media NYCity News Service at the City University of New York Graduate School of Journalism. He is the former City Editor of the New York Daily News, where he started as a reporter in 1992. Follow him on Twitter.
Copyright FREEL - NBC Local Media