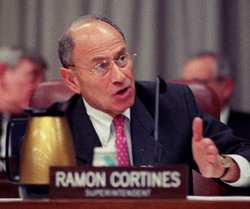 I'm not sure if there's been a more important story in an American newspaper than the front pager the LA Times ran Sunday morning on teachers.
The story describes how Times reporters, with help from a researcher at the RAND Corporation, obtained and analyzed data from the LA Unified School District that can be used to evaluate the progress teachers make with their students.
It's fascinating, and maddening. The newspaper got this data from the school district and used it. But the school district itself does not use its own data for this kind of evaluation.
U.S. & World
News from around the country and around the globe
Why doesn't the school district use this data? You have to read the story. It's the first of a series, and, despite its length, it's worth sitting down to read it. It's here.
Let us know what you think. Comment below, send us your thoughts via Twitter @PropZero or add your comment to our Facebook page.