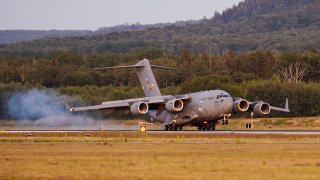 U.S. airmen helped to deliver a baby after an Afghan woman went into labor in midair aboard an evacuation flight that landed Saturday in Germany, U.S. Air Mobility Command said.
The woman, whose identity was not revealed, was aboard a C-17 aircraft on her way to Ramstein Air Base in southwest Germany when she went into labor, the command said in a statement on its Facebook page.
The flight took off from "an intermediate staging base in the Middle East," the statement said. It was not clear when the woman left Afghanistan.
The woman began experiencing complications in-flight due to low blood pressure, the statement said, adding, "The aircraft commander made the decision to descend in altitude to increase air pressure in the aircraft, which helped stabilize and save the mother's life."
Airmen from the 86th Medical Group rushed onboard and delivered the baby in the cargo bay of the aircraft as the plane landed, the statement said.