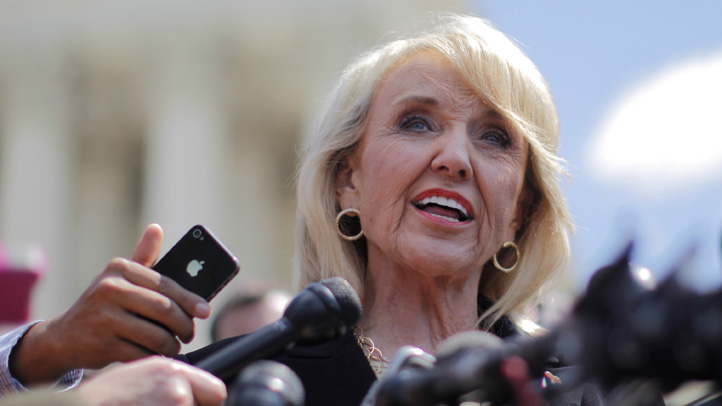 Arizona's
Gov. Jan Brewer announced
that Apple will be building a manufacturing plant in Mesa, Arizona, which will bring a total of 2,000 jobs to the region.
"Apple is indisputably one of the world's most innovative companies and I'm thrilled to welcome them to Arizona," Gov. Brewer said in a statement. "Apple will have an incredibly positive economic impact for Arizona and its decision to locate here speaks volumes about the friendly, pro-business climate we have been creating these past four years."
U.S. & World
News from around the country and around the globe
The plant will create 700 manufacturing jobs and 1,300 jobs in construction and management, according to the report. Apple will also be building "a new solar power grid" to help power its operations. In addition to the manufacturing facility, Apple will be constructing new solar and geothermal sources to power the new plant. No date for the facility's opening was announced.
While it's unknown what Apple will be producing, it may be part of Apple's campaign to Americanize its products. Apple will begin building its new
Mac Pro computers in Texas this fall
, according to 9to5 Mac, so the Arizona plant could be part of that plan.
Apple is also
partnering on the plant
with GT Advanced Technologies which specializes in crystal growth equipment for consumer electronics, Reuters reported. On Monday the company said it signed a deal with Apple to provide "sapphire material" which is used for watches and other electronics. GT said it would "own and operate the furnaces to produce the sapphire material" but that Apple will be the plant's owner. Apple will give a $578 million prepayment to GT, which GT will pay back in five years.
Apple gave little away about the announcement, ""We are proud to expand our domestic manufacturing initiative with a new facility in Arizona . . . This new plant will make components for Apple products and it will run on 100% renewable energy from day one, as a result of the work we are doing with SRP to create green energy sources to power the facility."
With manufacturing facilities now in Arizona and Texas, California should be a little miffed that Apple hasn't tried to find a plant in the Golden State. While costs in the Bay Area could prove cost-prohibitive, the San Joaquin Valley, foothills and its southern deserts are all affordable and full of economic incentives. Shouldn't Apple stay a California company, if plans to use
"Made in California"
as part of its marketing?