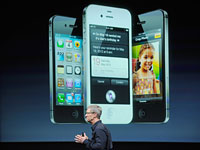 A new rumor states that Apple is planning to totally overhaul it's main products next year, including the iPad, iMac, iPhone and MacBook Air. New goodies!
Specifically, the rumor says we should expect a "slightly refreshed" iPad 2, with a thinner design and better battery, in March. A fully redesigned iPad 3 will come in the third quarter.
We'll also get a brand new iPhone and iMac in the second quarter, which points towards a June release. As for a new MacBook Air, that was just refreshed in July, so don't expect a new version of that much before next July.
U.S. & World
News from around the country and around the globe
It all sounds reasonable enough to me. We'll see!
For the latest tech stories, follow us on Twitter at @dvice
Copyright DVICE - DVICE