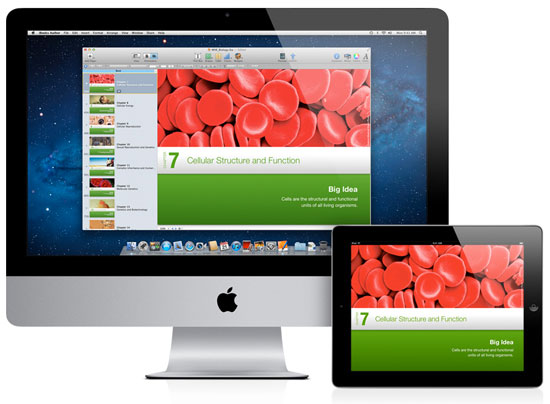 Apple made a slew of announcements today as it revamped its iBooks presence on the iPad to make it more friendly to educators. There's iBooks 2, which adds textbooks from big names; iBooks Author lets anyone create periodicals for iDevices; and iTunes U, a learning center full of free video and more. Pretty exciting stuff, but not the most exciting announcement of the bunch.
With iBooks 2, Apple is making a hard push to drag textbooks kicking and screaming into the digital age, making them interactive, searchable and media rich. It makes a lot of sense, and the iPad is definitely the tablet to do it on. According to MSNBC's Rosa Golijan, there's 20,000 education apps on the platform, and 1.5 million iPads being used for educational purposes.
That's probably why Apple could secure the biggest names in the textbook industry — Pearson, McGraw-Hill, and Houghton Mifflin Harcourt "make 90 percent of the textbooks available," according to Apple VP of global marketing Phil Schiller, who spoke at the announcement event — and why Apple was able to make this very impressive announcement: cheap text books. Like, under $15 cheap.
U.S. & World
News from around the country and around the globe
Textbooks represent an enormous investment for schools, educators and students. They can drive up student loans. They loose a lot of value right after you buy them. Heck, while we're piling on, they're also pretty damn heavy. The advantages of a digital solution aside, the ability to keep them cheap — and only time will tell if Apple is able to do that — is definitely what's impressing me most about Apple's iBooks 2 announcement.
It'll also be interesting to see what users do with iBooks Author, as now anyone essentially has the tools to package a multimedia "book" and sell it on iBooks.
You can read more about iBooks Textbooks here, as well as iBooks Author here and iTunes U here.
Copyright DVICE - DVICE