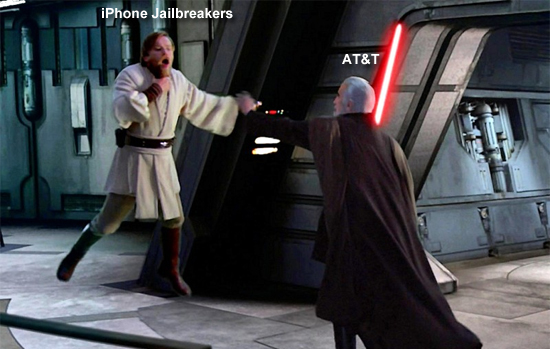 Voted America's least favorite wireless carrier, AT&T is going to do the official evil deed: end unlimited data tethering on all smartphones that aren't using one of its official tethering plans after August 11.
Back in March, heavy data consuming iPhone AT&T customers were warned with text message alerts that they would have to stop using jailbroken methods for free data on other devices or be forced into an automatic tethering plan upgrade.
That was just for jailbroken iPhone users.
U.S. & World
News from around the country and around the globe
Well, the party's over. The new rule will apply to Android and BlackBerry smartphones using unofficial tethering as well now. Somehow AT&T's managed to identify all the smartphones using unofficial data tethering and will offer three options going forward:
1. Stop tethering and keep the current plan (including grandfathered unlimited plans)

2. Contact AT&T and move to the required tethering plan

3. Do nothing and AT&T will go ahead and add the tethering plan.
AT&T's official statement is that it's killing off the free data piggyback rides to create "fairness for all of our customers." By fair, it means, force users to pay more for less.
Flip AT&T all the birds you want, for as long as you want, but if you don't want to lose your grandfathered unlimited data plan and pay $45 fee for the DataPro 4G tethering plan (2GB of monthly data + 2GB of tethered data), you will have to play by its rules.
My friends, free smartphone hotspotting is dead. Everybody put your frowny faces on.
Phandroid, via VentureBeat
For the latest tech stories, follow us on Twitter at @dvice
Copyright DVICE - DVICE