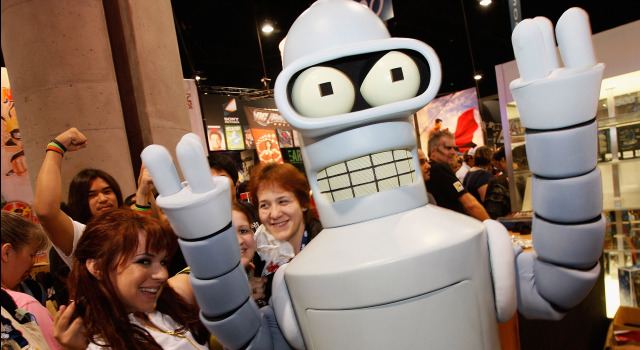 Save for a handful of movie specials, we haven't enjoyed a regular peak into the "Futurama" since 2003, which feels like light years ago.

That all changes Thursday night when "Futurama," an animated sitcom about life in the next millennium, makes its welcome return on Comedy Central with the first of 26 new episodes.

The comeback represents not only a victory for fans of the program, but is another sign that a network cancellation notice isn't the necessarily the death knell for cult shows that need time to build an audience.

"Futurama," the brainchild of "Simpsons" creator Matt Groening, premiered on Fox in 1999. But the "Sleeper"-like story of pizza deliveryman slacker Fry, who is accidentally cryogenically frozen in New York and thawed 1,000 years later in "New New York," never gathered much ratings steam.

The sardonic, visually clever look into a future that's not all that different – save for a degenerate, drunken robot, a mono-eyed mutant beauty and the preserved heads of notables like Richard Nixon – was cancelled seven years ago.

"Futurama" found new life in reruns on Cartoon Network and Comedy Central, buoyed by fans who liked the show the first time around and more recent aficionados drawn by the quirky misadventures of Fry, Bender, Leela and Dr. Farnsworth.

The show's circuitous path, in some respects, follows that of "Family Guy," which was canceled by Fox in 2002, but returned to the network three years later after a successful syndication run.

"Futurama" doesn't have quite the mass appeal of "Family Guy" or "The Simpsons." Its attraction rests more in geekdom – as does its influence. Without "Futurama," we might never have seen sci-fi TV cartoon spoofs like the "Spaceballs" spinoff or the planned George Lucas-sanctioned "Star Wars" animated comedy series.

Even if you're not a "Futurama" fan, the show's return offers a new hope for TV shows like "The Life & Times of Tim," the adult-themed cartoon recently cancelled by HBO (Comedy Central might want to add "Tim" to its animation lineup).

We're at an interesting place in the entertainment universe: Good shows often don't get time to find an audience amid increased ratings pressure and more media competing for our attention (slow-starting classics like "All in the Family" and "Seinfeld" would have never made it past the first season in this climate).

Yet with the proliferation of cable and web outlets, and fans letting their voices be heard through social media (paging Betty White), cancellation isn't necessarily the end of the (story) line anymore.

Reanimating a cartoon, of course, is far easier than resurrecting a live-action show. "Star Trek" came back in movies and spinoff programs, but we've been left to wonder these last four decades what magic Gene Roddenberry would have wielded in Season 4 and beyond. "Arrested Development" has been gone for four years, and prospects for a reunion a movie seem to be melting like a frozen banana left on the boardwalk.

So let's take some joy in the return of "Futurama" – and hope in times to come, more good TV shows that don't quickly establish a mass following will find a home in this universe.
Hester is founding director of the award-winning, multi-media NY City News Service at the City University of New York Graduate School of Journalism. He is the former City Editor of the New York Daily News, where he started as a reporter in 1992. Follow him on Twitter.
Copyright FREEL - NBC Local Media