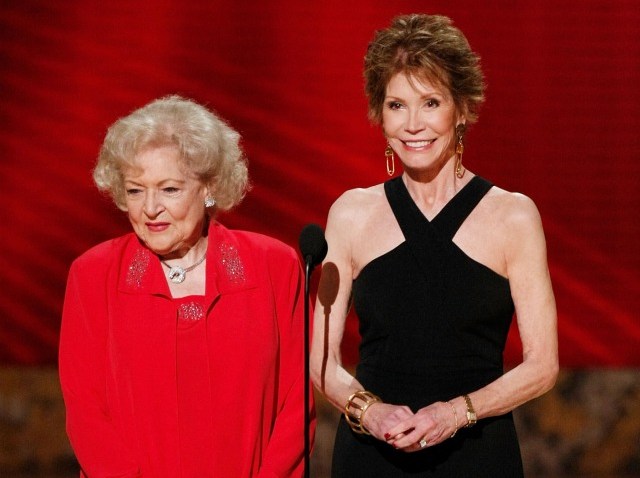 Since the standards of what you can get away with saying on television has relaxed a little since the 1970s, can we expect to hear what Mary Richard and Sue Ann Nivens really think about each other in explicit detail? B-word, anyone?
Sitcom goddess Mary Tyler Moore is reuniting with her "Mary Tyler Moore Show" crony (and these days reigning Hollywood "It" girl) Betty White on White's TV Land series "Hot In Cleveland." And Betty says the old sparring partners will be crossing swords once again.
"We had such a wonderful time!" she tells PopcornBiz. "I don't want to give too much away because we have a little contention, but we have an extreme setting, too. A little contention – not a lot but a little, and in a rather strange environment."
U.S. & World
News from around the country and around the globe
White's current co-star Valerie Bertinelli, no stranger to 70s sitcom stardom herself, was blown away witnessing the reunion – and having her first encounter with Moore, even though they both helped CBS rule the ratings in the Me Decade.
"I was watching them rehearse a scene and I thought that I was in some weird parallel universe where I was taken back in time," Bertinelli says. "It was just amazing. I was Tweeting about it. I was trying to take every picture that I could and I wasn't ready yet. I still had rollers in my hair and so I Tweeted the picture anyway because I don't care what I look like. I'm standing between Betty White and Mary Tyler Moore!"
"When they saw each other they just screamed," adds co-star Jane Leeves. "I mean, it was amazing and I got to see it. I got to sit in the makeup room and listen to them talk."
In the past year and a half White's landed on everyone's dream casting list in Hollywood– with rumors attaching the 88-year-old to just about anything from co-starring with George Clooney to hosting the Oscars.
"Have you heard those, too? Because there's no truth to most of them!" she says, confirming only one upcoming project. "I just finished a Hallmark Hall of Fame movie, 'Lost Valentine', which is a lovely movie with Jennifer Love Hewitt. So I just take what comes along, but time kind of runs out."
Given her status as the ruling role model for funny ladies everywhere, we had to ask: who has Betty looked up to?
"I looked at Lucille Ball – I didn't look up to her because she was right here," laughs White, marking off Lucy's height at her own eyeline. "But I was just blessed with a mother and father with a tremendous sense of humor. So there wasn't really anybody in the family who didn't enjoy making jokes, and that kind of rubs off."