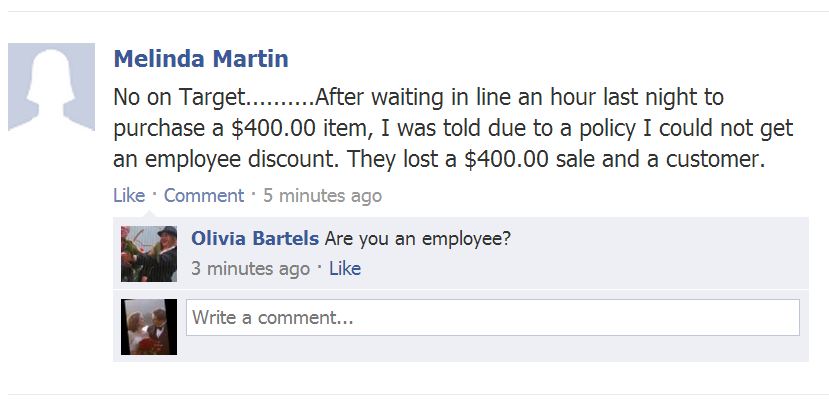 For those that went shopping early Friday morning to get deals and special savings, many felt cheated, unhappy and badly used by retailers, according to several Facebook posts.
The phenomenon was noticed first by MarketWatch on Walmart's Facebook page, but Press:Here expanded the search to other retailers. Here's what we found.
U.S. & World
News from around the country and around the globe
Jennifer Inman: We are not too happy with Macy's today. . . . We get up to register both of us with a HMDZ wireless speaker reg price 24.99 sale price 9.99 and you ring up for 39.99. This is not even priced that in any of the stores around us. After having to battle this out with a rude manager who then conveniently left the sign and the said merchandise on the table for more people to get gouged.

Cindy Todd: How can you have your site go down on Black Friday? Worse yet it says it is for scheduled maintenance!! Way to go Macy's.
Teresa Swanson: The JCP...in Rivergate, TN was VERY disorganized and under staffed, the lines were 2 hours long, the shoe dept. had shoes all over the floors.

Scott Orr: My wife and I were there at 6am when the store opened, and you either didn't have, or had very little of what you were advertising for Black Friday. This wasn't the first time. Very disappointed. You have all year to prepare. No excuses.
Ellen Buckley Campbell: I can't believe your site is down AGAIN! I've deleted cache and cookies like you recommended. But it's not me, it's you. Seriously?

Vicky Morin Mehls: I love shopping at Kohl's on Black Friday. And I fervently hope that this year Kohl's will make enough money to finally invest in a larger amount of shopping carts in their stores.
Pam Klinkenberg: Yea Target. I had the best ever Black Friday experience here in Land O Lakes, FL. So organized, staff very friendly and helpful!! You should be commended for knowing how to do it right. See you again next year!!!
Tiffany Schoonover: We were in line at 7 for the 9pm opening. It was so organized it made for such a pleasant shopping experience. And Chris was amazing he stated rules clearly, 'There will be no running, pushing etc or you will be escorted from the store' He was met with applause and cheering.
What we noticed were the Black Friday complaints weren't limited to in-store purchases, but also anger over online shopping. Perhaps Black Friday may eventually eclipse Cyber Monday?