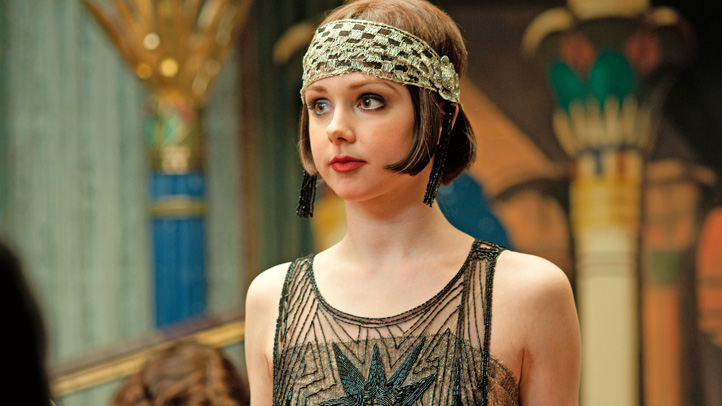 At the end of the second season of Boardwalk Empire, Nucky Thompson (Steve Buscemi) put a cap--or maybe it was two--in Jimmy Darmody's (Michael Pitt) pretty, treacherous noggin, ending two seasons of mentor/protg cat and mouse. Now, as season three opens, it's New Year's Eve, and Nucky is getting ready to usher in 1923. But not before getting down to business, and if you suspect that means still more killing, you're not mistaken.
Check out our bonus Boardwalk Empire footage!
WHAT WE LEARNED
U.S. & World
News from around the country and around the globe
Never Insult Strange Italian Men on the Atlantic City Border: And never, ever annoy Nucky Thompson. In an epic, Tarantino-style opening monologue, the dirty politician reveals that, now, more than ever, he'll suffer no one who might interrupt his operations, not even a thief who steals to feed his family. Nucky's also none too pleased with his political allies and the negative attention they're getting from the press. Still, he manages to keep business going, even on New Year's Eve, announcing that he's cut an exclusive distribution deal with Arnold Rothstein (Michael Stuhlbarg). Which brings us back to Italian men: Upon hearing of Nucky's new business arrangement, Gyp Rosetti (Bobby Cannavale), fresh from murdering a guy on his way to Atlantic City, makes it clear that he is not pleased.
Chicago's Not Quite the Melting Pot It Should Be: Al Capone's (Stephen Graham) booze business is starting to see some encroachment from the Irish, led by the cocky Dean O'Banion (Arron Shiver), who gets off on insulting Al's deaf son. Al tries to reduce Dean to Irish stew, until onetime government agent Nelson Van Alden (Michael Shannon) blunders into his flower shop and just happens to save the day. Van Alden has a new gig, and a new name, as a door-to-door salesman, but something tells us he won't have it for long, having impressed O'Banion like he has.
Margaret Isn't Just Going to Sit Back and Be Nucky's "Wife:" During a visit to a hospital wing named in honor of the Thompsons, Nucky's missus (Kelly MacDonald) learns that women are miscarrying because of inferior prenatal care. Her own painful loss clearly still in her mind, she resolves to be more than the spouse of a criminal-slash-philanthropist. Fueled by champagne-borne courage, she confronts a hospital administrator about improving prenatal care--in the middle of Nucky's New Year's Eve soiree. The effort backfires, Nucky later reads her the riot act, and then he splits, hitting the hay with cute flapper Billie Kent (Meg Steedle).
Jimmy Is Alive! Sort Of: OK, not really. But as long as his mom knows how to forge his name on checks, Darmody is clearly going to live on in Gillian's (Gretchen Mol) bank account, if not her heart. Speaking of Gillian, she and sniper vet Richard Harrow are apparently co-running a high-end house of assignation called, ironically, the Artemis Club. Hey, he's pretty good with little Tommy Darmody, too. Gillian is determined to replace the late Angela Darmody completely as a mother figure. Good luck with that.
See which cast members are up for Emmys!
Manny Horvitz (William Forsythe) agrees to bump off another thief as a favor to Nucky, and on New Year's, to boot. In exchange, the Odessan hustler gains permission to run his own "schtill." Life looks good; Horvitz's wife buys him a new hat for the New Year. Too bad Harrow then shows up a puts a bullet in Horwitz's punum. (The hat, apparently, survives.)
ONE-LINERS
"Untie him. But before you do, put a bullet in his f--king head." --Nucky Thompson
"Naples is the moon--the dark side!" --Al Capone
"All I'm saying is, you live in a glass house." --Harry Daugherty
"Why don't you go sit in the corner, short pants?" --Gyp Rosetti
"And look at you, a bread stick in a bow tie." --Rosetti
Copyright E! Online