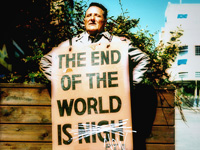 Gov. Jerry Brown has been trying to clear the field when it comes to the November ballot.
While his political team gathers signaturesto qualify his measure, Brown knows that chances of his tax plan passing are nil if two other tax proposals appear on the same ballot.
Voters, faced with that choice, will make an easy decisi/on: none of the above.
U.S. & World
News from around the country and around the globe
So it's no surprise that Brown's top political advisor, Steve Glazer, released a poll today that echoes what Brown and political analysts have been chatting about for weeks.
That poll, from J. Moore Methods of Sacramento, makes this conclusion: "If multiple tax measures are on the ballot at the same time, voters will naturally choose one measure over another, which will make it extremely difficult for any one measure to receive over 50 percent of the vote."
The poll, which surveyed 500 registered voters over the weekend, shows that Gov. Brown's plan--which includes a half cent sales tax increase and an income tax hike on the wealthy--has 53 percent support and 36 percent opposed.
A separate measure backed by the California Federation of Teachers--which includes only an income tax increase on the wealthy--has nearly identical numbers. 55 percent support it, with 34 percent opposed.
A third measure by Los Angeles attorney Molly Munger--which raises income taxes across-the-board to fund schools--shows little support. 31 percent support it and 60 percent are opposed, according to the Moore poll.
In a three-way match-up, all would lose. It's all about collateral damage at that point.
Which brings us back to Jerry Brown. He's already convinced one group, Think Long, to shelve its tax proposal this year.
He's had no luck with Munger or the Federation of Teachers, both of which indicate they have no interest in pulling their plans. Today's poll is being wielded as a hammer to convince them to change their minds.
Brown's plan would raise $7 billion in revenue to help plug the state's leaky finances. Without it, his budget indicates schools would face a nearly $5 billion dollar hit.
As Glazer put it today on Twitter, "...kids lose."
But Brown loses too, if he's unable to pull off the political hat trick of clearing these competing measures from the ballot.
Let us know what you think. Comment below, send us your thoughts via Twitter @PropZero or add your comment to our Facebook page.