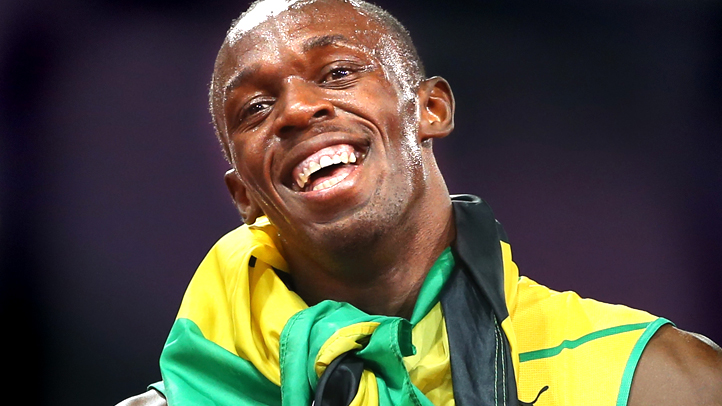 Usain Bolt became the first man to win Olympic gold in the 200m twice, just days after becoming only the second man to repeat in the 100m.
Bolt ran the 200m in 19.32, while his sidekick and chief competitor, Yohan Blake, very nearly caught him before falling off to take silver at 19.44, and Warren Weir took bronze with a 19.84 to complete the Jamaican sweep.
As he crossed the finish line, Bolt raised a finger to his lips in a vain/ironic attempt to silence the crowd. His celebrations then included waving the Jamaican flag, before tying it around his neck, assuming his signature "Bolt" pose, more than a little flexing and a visit to the photographers' pit, where he grabbed a camera and started shooting pics of the press.
U.S. & World
News from around the country and around the globe
The preening then continued with a trip back to the track, where he dropped to his knees and kissed the ground, before "Bolt-ing" once again.
Wallace Spearmon, the lone American in the race, finished fourth at 19.90.
Bolt came to London with the stated goal of becoming a "living legend," and with back-to-back gold medals in the 100m and 200m, it would seem his mission is accomplished.
With his successful 100m title defense, with the second-fastest time in history--9.63 seconds--he joined Carl Lewis of the U.S. as the only men with consecutive golds in the dash.
Four years ago, he went 3 for 3, winning the 100, 200 and 4x100 relay, all in world-record time. He went on to break his marks in the two individual races at the 2009 world championships — records that still stand, 9.58 in the 100 and 19.19 in the 200.
Asked about the chances of a world record Thursday, Bolt replied: "There's a possibility, definitely. I can't say (for sure), but the track is fast. It's going to be a good race."
There's plenty of other medal action Thursday in track and field. In the men's 800-meter, David Lekuta Rudisha of Kenya established a new world record with a time of 1:40.91, with Nigel Amos of Botswana taking silver, and Kenyan Timothy Kitum earning bronze. Americans Duane Solomon and Nicholas Symmonds finished fourth and fifth, at 1:42.82 and 1:42.95.
In the men's triple jump, Americans Christian Taylor and Will Claye lived up to their billing as favorites, taking gold and silver, respectively, with Italian Fabrizio Donato taking bronze.
In the decathlon, world record-holder Ashton Eaton of the U.S. took gold with a score of 8,869, and teammates Trey Hardee won silver with a 8,671, as they became the first Americans to finish 1-2 in the decathlon since Milton Campbell and Rafer Johnson in 1956.
Copyright AP - Associated Press