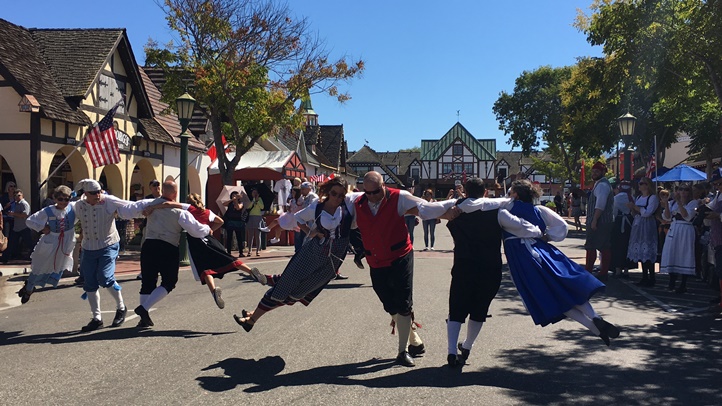 WE HUMANS... are often asked to "walk over" or "stop by" or "drop by" or "swing on through, if we have a sec." But rarely does the intriguing invitation to "clog over" land in our mailbox, which is rather unfortunate. And while Solvang doesn't exactly send out that specific call into the world, it is one of the cloggiest spots in all of California. Which means that if you do love clogs, the moment to slip into your go-to pair would be ahead of your trip to the Danish Capital of America. And if you don't have clogs? Goodness, you'll spy so many beautiful pairs for sale around the walkable, er, cloggable town. So best prepare to clog on over to the handsome hamlet, which is known for its pastries, windmills, and wine country spirit, for one of its grandest get-togethers of the year. We're speaking of...
DANISH DAYS, a three-day party that's billed as "California's #1 Danish Festival." The 2019 to-do will slip into its own party clogs from Sept. 20-22, and you should, too, or find your sneakers or sandals or whatever footwear you find comfortable. For you'll want to be fully at ease as you watch the Torchlight Parade, or call upon the Old World Artisans Marketplace, or visit a Viking Encampment, or, yes, dig into a plate brimming with æbleskiver, Solvang's pillow-like pastry, the goodie that boasts a dusting of powdered sugar and a generous spoonful of jam. There is, in fact, an Æbleskiver Breakfast on both Saturday and Sunday, if you'd like to be among other lovers of this oh-so-Solvangian sweet.
THERE'S AN EATING CONTEST, too, devoted to the æbleskiver, and a cooking demonstration, if you think you might have the knack to make these nummy, bready, pockets o' perfection at home. The Danish Days roster runs the gamut, from performance to food to live music, and while you won't have to show up on clogs, you may find yourself wanting to leave with a pretty pair. If so, you're in the right place, at the right time, to clog shop. And then next year? When it is time for the 84th Danish Days in Solvang, in 2020? That's when you'll be able to "clog by" the quaint town in order to enjoy all of its historic happenings, the happenings that festoon Danish Days much like powdered sugar adds sweetness to a beautifully made æbleskiver.
Copyright FREEL - NBC Local Media