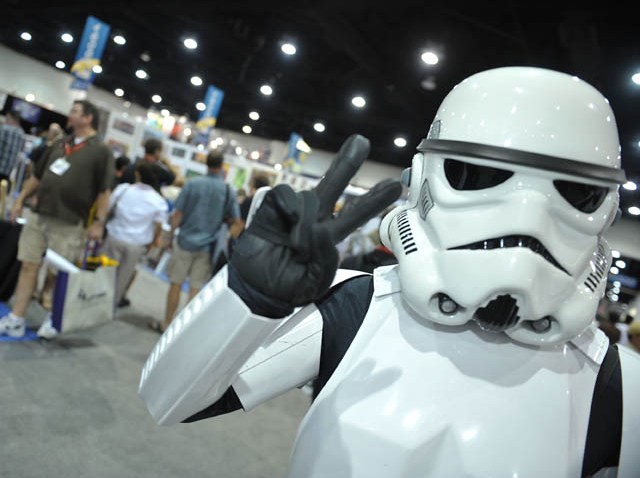 It happens to the best of us.
We spend all year talking about how much we want to go to Comic-Con only to find ourselves scouring the Internet days before looking for last-minute tickets in vain.
As expected, this year's Comic-Con convention, from July 21 to 25, is sold out. Relax, that doesn't mean you can't get in on all the fun without a ticket. Some of the best things about the year's biggest comic gathering can be found outside the confines of the convention center.
U.S. & World
News from around the country and around the globe
Thursday:
Kicking off Thursday night is w00stock 2.4; a concert and comedy show at the 4th&B. This 21 and up event is going to be hosted by none other than Adam Savage of Mythbusters, Wil Wheaton Star Trek: TNG, and Singer/Songwriters Paul and Storm. There's even word that more special guests may show up, so get your tickets online via Ticketmaster or at the door.
Sci-fi fans should check out a special screening of the modern sci-fi classic 'Serenity' at The California Browncoats. Tickets to the movie are being sold online for $10.
If music is your thing then head over to The San Diego Symphony for Distant Worlds: Music from Final Fantasy, a concert that'll feature music from all thirteen of the epic Final Fantasy games. Don't leave your costume at home though. There's going to be a contest so come dressed as your favorite video game character. You can find all the ticket and parking info on the symphony's website.
For only $15, cartoon enthusiasts will get a chance to eat, drink and socialize with some of San Diego's biggest names in cartooning at the National Cartoonist Society and Southern California Cartoonist Society Party. Buster's Beach House Restaurant is holding the event Thursday night and it's only five minutes away from the convention center. You can get all the details online.
Friday:
The convention center won't be the only place you'll find a hero on a Friday night. Video gamers will get a chance to party it up with the makers of City of Heroes at the Hard Rock Hotel. The big bash is going to have raffles, food and drinks for anyone 21 or over. Party goers can RSVP online. The San Diego Museum of Art is getting in on the hero theme too with Mortals & Myths in Ancient Greece, an exhibit about Ancient Myths and Warriors. Check out a sneak peek of what the show has to offer on the museum's website.
Geek hero, and all around great guy, Patton Oswalt won't be keeping his act at Comic-Con this year because he'll be doing stand-up at the House of Blues at 8 p.m. Comedy lovers and geeks alike can get their tickets for the show online now.
Speaking of geeks, on Friday night, you should Tweet-up with some geeky Girls and friends for the Geek Girls Network party at the Jolt N' Joes in the Gaslamp District. The Twitter-themed event, hosted by @geekgirls, @thenerdybird and @geekgirldiva, is for the geeks 21 and over and will feature a bar and DJ to keep things moving.
Don't let the Tweeting stop there though; the USS Midway is holding Tweet House, an event featuring a social media panel discussion followed up with a big party with video mash-ups by Mike Relm. If you're looking for a celeb sighting outside the convention then this is the spot as Tyrese Gibson, Levar Burton and Brent Spiner are all on the list of expected guests.
Saturday:
Saturday things really start picking up with an event celebrating everything viral at Celebrate the Web. The celebration is all about sci-fi, horror, fantasy and gaming web shows and their creators. There's no cover charge and fans will get a chance to learn more about the trade. The party isn't the only free gig in town though. If you're looking for cheap laughs then check out Comedy Central's Free Comedy Show featuring amateur comedians.
Panel discussions are one of Comic-Con's most popular attractions with people lining up hours in advance to catch a glimpse of celebrities, producers and directors of some of the best work in pop culture today. This year you won't need a ticket to the convention get up close and personal, though. Actors Tim Heidecker and Eric Wareheim of the bizarre, yet funny, "Tim and Eric Awesome Show, Great Job!" on Cartoon Network are putting on an event called Awesomecon. The party is going to feature an appearance by Tim and Eric and runs from 12 p.m. to 3. Head over to the party's Facebook page for more info.
There's no need to just stand around in a costume at this year's Comic-Con when you could parade around in one when the living dead walk the streets for San Diego Zombie Walk. This free event is open to all ages and features zombie themed face painting ending in everyone in attendance walking about the streets dressed for the afterlife. Once the walk ends, zombies 21 and over can head over to the after parties at Quality Social club and the X-Sanguin 9 Fail-Safe Party.
Sunday:
On Sunday geeks can rock out to a live show featuring comedy band Random Gibberish, Kirby Krackle and The Megas. Tickets are going to be sold at the door for $10 and there could be some special guests so check the website for updates.
Finally, there's one thing you can do for free everyday of Comic-Con -- people watch. It's the event's biggest pastime and what draws many to the convention center year after year. Where else on earth are you going to see a legion of Storm Troopers, Manga characters, comic book babes and super heroes all in one place?
If you snap a shot of any of Comic-Con's costumed crusaders, send it to us at isee@nbcsandiego.com. For a complete list of this year's offsite events, and more info about the convention, check out Comic-Con's unofficial blog.