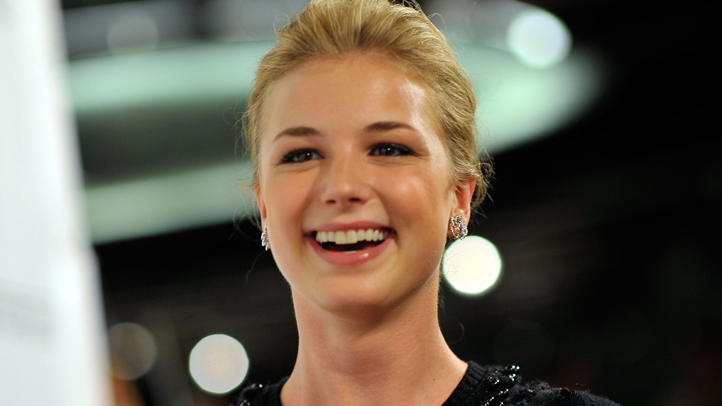 Even Emily VanCamp admits: it's pretty good to be her right now.
"Oh my goodness – Is it ever!" she laughs, celebrating the success of her juicy TV melodrama "Revenge," which recently received a full-season order from ABC, and the upcoming release of her indie film "Norman." "It's slightly overwhelming how exciting things are. It's been a great few months."
After spending her early years honing her craft in ensemble series like "Everwood" and "Brothers & Sisters," the 25-year-old actress has emerged as a leading lady with front-and-center roles – and can be forgiven some minor schizophrenia, given that both role are also named Emily. "Which is hilarious to me," she tells PopcornBiz. "They are polar opposites, these two characters."
U.S. & World
News from around the country and around the globe
VanCamp says that as a somewhat compulsive truth-teller in her personal life "I have to dig deep for ["Revenge" character] Emily Thorne to be doing that because that's not really how I operate on any level. It's such a fascinating thing to explore, that sort of sociopathic nature. Just compulsivey lying all the time and really believing your own lies. And that's essentially what my character does on a day-to-day basis. Trying to find those moments where she sort of shifts a bit back into reality and then shift out of it, and how much you can show and how much you can't – it's endlessly fun."
Viewers, too, seem to be having a ball watching VanCamp's Amanda Clarke/Emily Thorne slowly enact her vengeance upon the upper-crust Hamptons community she blames for the death of her father and destruction of her family, while also getting caught up in their own illicit intrigues. In fact, when fans approach her, it's usually to encourage the TV Emily to be even nastier.
"People want to see more," she chuckles. "They're not telling me to stop. They're telling me to keep going. They love it! It's amazing – It's almost like people are living vicariously, living their revenge fantasies, through this character. It's hilarious. I'm astonished that people are really sort of rooting for her."
She's loathe to let loose of any spoilers, but hints that the stakes are about to get even higher. "I can say that Episode Five, which is coming up this week, is WILD. And completely unexpected. I think people are going to eat it up – I certainly loved the script. And then we sort of embark on a whole other level of revenge after this episode, so there are some great twists and turns coming up very quickly."
Her indie film "Norman" offers a 180-degree spin away from "Revenge" – in fact, in the angsty teen drama VanCamp's the one being duped: a high school outcast ("Cougar Town's" Dan Byrd), reeling from the early loss of his mother and his dying father's refusal to seek further treatment for cancer, pretends he has the disease himself, which draws him ever closer to the quirky girl of his dreams, played by VanCamp.
"I loved the character, who's very different from the sort of other girl-next-door-types that I play," says the actress. "She's very just vulnerable and innocent and open and free-spirited, and had this really lovely quality about her on the page that I was excited to try to bring to life. And finding out that Dan Byrd was going to be playing Norman – I think he's such a wonderful actor and brought so much to the part. The chance to work with him was very exciting. And Richard Jenkins, who I thought was phenomenal in the film. It's hard to find a good coming-of-age story that's compelling."
She admits that she's experienced her share of being lied to. "I think we've all had people come in and out of our lives that have tendencies to embellish or just full-on lie," she says. "We've all been lied to, let's be honest. But I don't think it's quite to the extent that Emily Thorne's doing it."
And VanCamp also pledges never to try to even the score with someone who's wronged her. "No, not like that," she giggles. "Come on. Really – she's crazy!"

"Revenge" airs Wednesday nights at 10 PM ET on ABC. "Norman" opens in limited release this Friday.