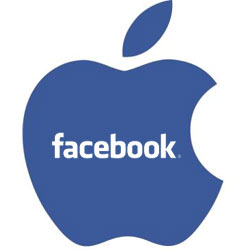 When Facebook paired with Skype for video chats the reaction was ... tumultuous yawning. Then f8 conference happened and now we've got yays, nays, chatter and a possible Congressional hearing. Basically, enough headlines for Facebook for a while, right?
Yeah, not so much. TechCrunch reports that FB is looking to roll out some mobile products -- possibly at Apple's iPhone 5 announcement on Tuesday.
Again: that's Apple and Facebook in the same sentence, in a good way. Of course, it depends on how the negotiations go through Monday, but still, they're thinking about it.
U.S. & World
News from around the country and around the globe
But wait, there's one more thing: an iPad app. (We separated those two announcements in deference to Mark Zuckerberg's insistence that the iPad is "not mobile.")
"The mobile products will let users bookmark apps, search for apps more easily and streamline the process to invite friends to use an app," The Washington Post writes.
The long-rumored mobile-for-Facebook is referred to as Project Spartan, and, apparently, some screen shots of it surfaced last night, posted by Alexia Tsotsis.
Facebook at an Apple event? Dogs and cats, living together? Mass hysteria. Finally.