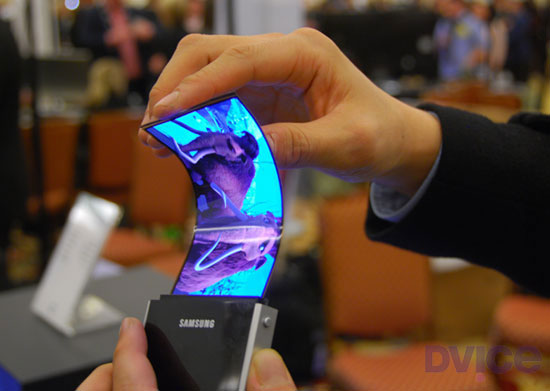 We're in a bit of a rut right now when it comes to exciting hardware innovations in smartphones. When the iPhone hit the scene in 2007, it was the touchscreen that saw it revolutionize the cellular landscape. Now, the next disruptive feature appears to be just around the corner, as flexible displays are getting mass produced in a big way.
Here's the heart of it, reported by The Korea Times' Kim Yoo-chul:
Samsung recently dedicated a number of lines at its factory in Tangjeong, South Chungcheong Province, for the production of flexible OLED displays. The line will pump out 960,000 OLED sheets by the end of the year.
U.S. & World
News from around the country and around the globe
That little tidbit certainly teases the imagination, especially when you consider that Samsung happens to be one of Apple's largest suppliers for displays and even certain chips, and that Samsung has been investing heavily in flexible display tech. Nearly a million screens is a whole hell of a lot, and a number that large has some people thinking they'll end up in a 2013 iPhone.
Sure, that's entirely possible, especially if the screens are the best option on the table. But a flexible display in an iPhone does not a flexible iPhone make. While this is a strong indication that Samsung feels like its bendy OLED tech is ready for primetime, a smartphone is more than just a display and would need a flexible body and internals to match (and in a way that met Apple's high-performance demands). That, and why would Samsung simply give up what could be a defining innovation in technology when it could launch it first in a phone of its own? Samsung has the chops.
Only time will tell where all those flexible displays end up. Some may just be replacing LCDs and other screens in current gadgets. Again from the same report by Korea Times, talking to Samsung Electronics Vice Chairman Kwon Oh-hyun:
We will be mass producing flexible OLED displays from the latter half of this year as the demand from our clients is significant," said Kwon, who calls the shots in Samsung's parts business.

"OLEDs will replace LCDs as the main mobile displays from around 2015 as the screens are thinner and brighter. Samsung has massively invested in OLED-related technologies and will continue to do so."

A Samsung spokesman declined to talk in detail about the plans for flexible OLED screens and how Apple fits into the picture.
The flexibility of Samsung's OLED display may spark the imagination, but it sounds like the screen tech is just a superior product compared with traditional LCDs. That makes sense. They'd be more durable by virtue of having some give to them, and "thinner and brighter" never hurts. So, iPhones in 2013 with flexible displays? Entirely possible. With flexible everything else? Well, we're thinking not as likely.
Even if we don't see flexible phones being sold in stores next year en masse, you can bet your boots that Samsung and others will do something with this tech, maybe even putting it into something wearable.
Copyright DVICE - DVICE