When Michella Flores hopped off the plane in Oakland, she thought the worst was over. The Santa Rosa woman had just escaped the Las Vegas massacre at a country music festival that left 58 dead and another 500 wounded — the deadliest mass shooting in the country's history.
She had survived by running as fast as she could, taking shelter in a nearby hotel's conference room. The next morning, with the sounds of gunfire etched in her memory, she was desperate to leave Sin City.
"After that, I couldn't wait to be home," Flores, a flight attendant, said. "I was obsessed with it. That was all I cared about; all I wanted was to be home with my family and my dog."
But her reprieve would be short-lived. Exactly one week later, the Sullivan Street house she shared with her parents erupted in flames, burning to the ground as a spate of wildfires wreaked havoc on the North Bay. Almost everything her family owned — photo albums, clothing, furniture, irreplaceable Christmas ornaments — was destroyed in the blaze.
"I haven't had a chance to sit down and process everything, really," she said. "I don't think it's hit me yet because I've been so focused on looking forward and doing what needs to be done."
And there is a lot that needs to be done in the coming weeks, even though her family has moved out of the evacuation center where they were temporarily holed up.
U.S. & World
News from around the country and around the globe
Flores and her parents, who are in their seventies, have been sleeping in a temporary rental. She will need to look for an affordable long-term place to stay, find daycare for her beloved dog, and muster up the energy to complete the seemingly endless array of documents that fire victims are required to fill out to receive assistance.
[NATL-BAY]'Looks Like a War Zone': Santa Rosa Neighborhood Destroyed in Wildfires
"I've always been the person that keeps the priorities in mind, and knowing what needs to be done," she said. "That's who I am. Breaking down isn't even an option right now. I don't think of it because I know it just can't happen. There's just too much to do."
Her parents, who had moved to Sullivan Street after their first home was foreclosed upon during the Great Recession, were renters. They did not have insurance.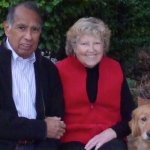 "We're not going to be able to afford to stay in the Bay Area," Flores said, matter-of-factly. "That's just the way it is. It's killing my mother; she's in love with Sonoma County. Santa Rosa has been our home for more than 32 years. That's something I worry about, how this is all going to affect her."
Flores, who previously worked as a firefighter and a police dispatcher, credits her professional history with helping her get through the tragedies. Immediately throwing herself into "work mode," she even helped battle the flames as they tore apart her house. Her experience as a first responder trained her to compartmentalize rather than fall apart, she said.
[NATL-BAY GALLERY]North Bay Wildfires: The Smoldering Aftermath
She hasn't lost her dry sense of humor, either. On the phone, she even manages to crack a few jokes about a load of her work uniforms that were left in the washing machine when the fire erupted.
"Yeah, they got washed, alright," she quipped, letting out a small chuckle.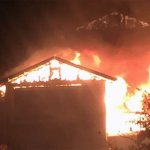 Throwing pity parties is simply not her style. It has never been, according to her sister, who lives in Virginia.
"She's resilient and amazing, and she's done amazing things with her life," Krista Flores said. "But I worry about my sister. She's just always been so busy. She doesn't take time to take care of herself, and I'm afraid for when it all hits her."
Michella Flores, who still hasn't taken a day off work since her horrendous October began in Vegas, thinks the realization of what happened to her will come sooner rather than later. She is dreading staying overnight in a hotel at the end of this month for work. Once there, she'll be alone, with no one else to look after.
"I'm imagining that's when it's going to hit me, and I'll deal with it then," she said. "But I'll only be able to deal with it for a moment. The next morning I'll have to be perky for the passengers. I can't very well sit in the middle of the aisle, telling them my woes. 'Oh my god, I was shot at, my house burned down'....they don't want to hear that."
[NATL] Las Vegas Mourns After Nation's Deadliest Modern Shooting
Instead, she turns to her dog for comfort, and her spirits have been lifted by a community that has rallied around her parents and provided support. A GoFundMe page, created by her sister, has been flooded with donations and well wishes from across the country.
"The outpouring has been so great," she said. "I've been amazed by people who have been donating. I almost feel unworthy, because of everything happening elsewhere. You know, you look at Puerto Rico and some people don't even have clean water. But I'm lucky, my family is alive, I'm alive. Things could be worse."
When asked what would be the best outcome for her family, she said they would like to stay in Santa Rosa. But she's not holding out hope, and she doesn't expect anyone to hand them anything.
"The world isn't perfect, but in a perfect world, of course, we would like to stay," she said. "Even though it's smoky and it looks like a bomb hit the town, I still don't want to leave. Santa Rosa is still my town. It'll always be our home."
Find the GoFundMe page for Michella Flores and her family here.
Comments, corrections or tips? Contact author Gillian Edevane at Gillian.Edevane@nbcuni.com.