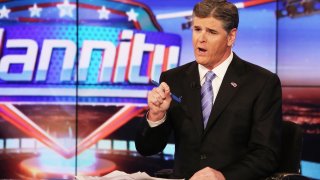 On his Fox News show Wednesday evening, Sean Hannity said the COVID-19 vaccine is "not protecting many people" while interviewing Florida Gov. Ron DeSantis.
Just a day earlier, the producers of that segment were required by the day's end to upload their vaccination status to the company's internal system.
As some Fox News stars continue to question the efficacy of the COVID vaccines, the company has drawn its own line: mandating employees to tell the network if they have been vaccinated, according to an internal memo first published by AdWeek. It is not, however, requiring to employees to be vaccinated to come into the offices.
A Fox News spokesperson directed NBC News to the AdWeek article.
CEO Suzanne Scott said in the memo, which was an updated version of a memo sent in June, that the mandate applies to all employees, including those working remotely.
Read the full story here on NBCNews.com