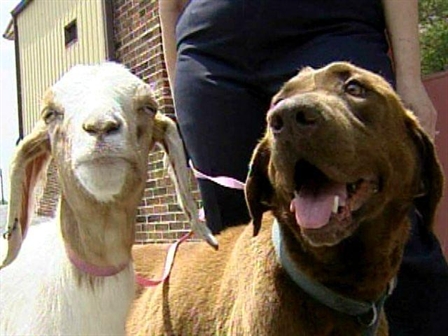 EDIBLE EDIFICES: Hotels have gained a reputation through the ages in a few specific areas. They're places to bed down for the night, for a fee. Sometimes they have a restaurant, where one may take a meal, before the bedding down. Other services often dot a hotel's C.V., from spas to shoeshine to tours. And sometimes, if a hotel has received a dusting of holiday magic glitter -- you can totally find that in industry catalogs, we've heard -- ginormous houses made of gingerbread, frosting, and candy canes show up in their lobbies for a few weeks at the end of the year. It's not every inn that walks this whimsical road, but some of the Golden States grand dames do so, year after year. Including...
THE CLAREMONT HOTEL, CLUB & SPA: The historic, up-a-hill Berkeley landmark has laid some 1,600 bricks -- make those gingerbread bricks -- and some peppermint stick touches in its walk-in treat. The sugary structure isn't the only holiday thing going down at the hotel. There's a Home for the Holidays package and a Holiday Faire on Nov. 30, complete with "merry sips and bites" and the lighting of the big tree. We're still wondering, though, why we don't have a giant walk-in edible of our own.
THE FAIRMONT: Oh goodness. This one is a glittery people-gatherer, as you know if you've ever tucked into the Nob Hill topper for a quick December look around (or attended one of the hotel's sumptuous teas). There is usually a guest or visitor milling inside the two-story house -- yep, it is a gingerbread house with multiple stories -- at all hours of the day. You can't miss it, either: It's right inside The Fairmont. Two stories! Now we kind of want someone to build a gingerbread tower, life-sized, or a gingerbread dorm? It can be done, we just bet.
U.S. & World
News from around the country and around the globe
GINGERBREAD MANSION: Speaking of walk-in gingerbread structures, Ferndale is home to the Gingerbread Mansion, which looks as gingerbready as any baked good. Nope, it isn't made of real gingerbread -- it would get super soggy in the rain -- but it is a festively monikered place, in a beautiful Victorian-esque town. If you don't need real gingerbread to complete your season, but only gingerbread in spirit, this could be your Christmas stayover. (Just pack a box of gingerbread cookies to eat in your room, to complete the experience.)
Copyright FREEL - NBC Local Media