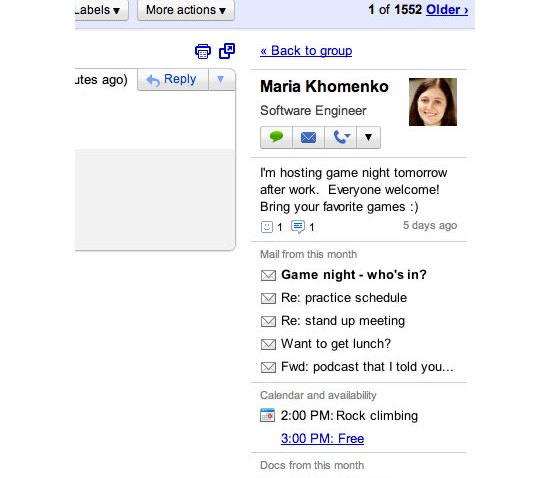 Google has announced an interesting change to the way Gmail works, one that could alter the landscape of the company's email service quite a bit. Alongside emails you may now see a face attached to the name, as well as a surprising amount of information.
The search engine giant plans to roll the new feature out over the next two weeks, which will make Gmail a little more social: the "people widget surfaces content from friends, family and colleagues that is already available to you but may be hard to find and makes it easier to connect with them."
That information is then presented to the side of an email sent to you, offering you various other ways to connect with whoever you're corresponding with, such as chatting, video chatting or calling. But just what data is this algorithm "surfacing," anyway?
U.S. & World
News from around the country and around the globe
From Google:
"Next to every email message you can now see contextual information about the people in that conversation including recent emails you received from them, relevant Buzz posts, shared documents and calendar events. You also have quick access to a variety of ways to communicate with individuals, start a group chat or schedule a meeting with groups of people."
On the one hand, it actually sounds kind of nice to be able to engage with other Gmail users on a more personal level. (Yes, I say this even as someone who receives inordinate amounts of PR emails a day — don't be jealous.) On the other, the success of this widget depends entirely on how much control Gmail gives you, not to mention what information Google elects to share. When Buzz first launched, for instance, Google was, um, a little too forthcoming, though the company scrambled to make it right.
We'll just have to wait and see as it hasn't hit any of our Gmails yet here at DVICE HQ. What about yours?
Gmail Blog, via Mashable
For the latest tech stories, follow us on Twitter at @dvice
Copyright DVICE - DVICE