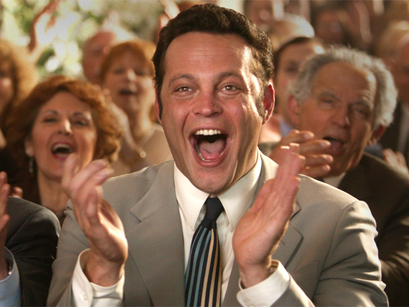 Google is featured in the new film "The Internship," a Hollywood comedy about jobless, tech-challenged 40-year-olds competing for a Google internship.
The Twentieth Century Fox film script was originally written by Vince Vaughn, who now stars in the vehicle, and the "Swingers" actor pitched the film to Google. "It was 'The Wizard of Oz,' or the 'Chocolate Factory,'" Vaughn, 42, told Bloomberg TV. "Such a different place to work at than what is considered a traditional work environment, with the nap pods and the access to food, and of course the intramural sports on campus and massages and all that kind of stuff."
While the majority of the film was shot at the Georgia Institute of Technology in Atlanta, film crews spent a few days filming at the Googleplex. Google's driverless cars or Google Glasses might appear in the film, according to director Shawn Levy. The film also features comedic actors Owen Wilson and Will Ferrell.
U.S. & World
News from around the country and around the globe
And while Google has not been an investor, co-founder Sergey Brin apparently is on board to help market the film. "As he said over dinner, you either continue to evolve or you become extinct," Levy said. "Thus the dinosaur skeleton in the quad."
We're not sure it's the best idea to host a Vince Vaughn movie at one's place of work, aside from raunchy comedy "Couples Retreat," it may also just be unfunny ("The Dilemma.") Still, Google will likely get some press from the film -- more so if it wants to be a part of the marketing after a screening of the film, or not.