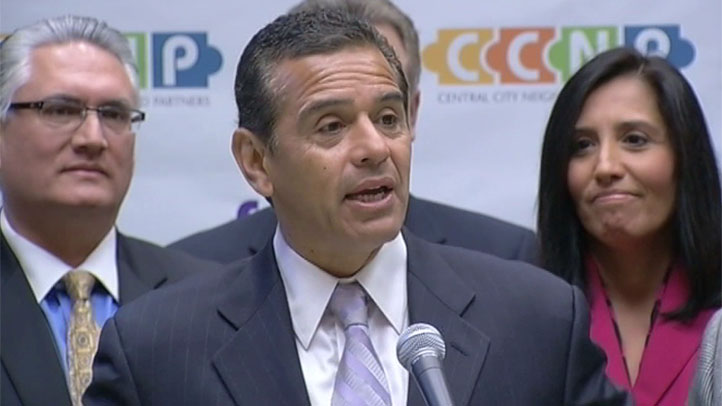 Is it detente in Sacramento?
A lessening of partisan differences?
Or just a good political opportunity for Republicans to argue that, despite their minority status, they are relevant.
U.S. & World
News from around the country and around the globe
Last month, GOP lawmakers announced that they were supporting a series of pension reforms that were identical to those pushed by Gov. Jerry Brown. it was a smart political play, putting the spotlight on Democrats who oppose those reforms.
Tuesday, a group of Republicans borrowed from the same playbook, announcing that they are backing Los Angeles Mayor Antonio Villaraigosa's call for teacher discipline reforms.
It's an odd alliance.
Villaraigosa wrote a letter to Gov. Brown in February, saying the recent scandal involving staff at Miramonte Elementary in Los Angeles illustrated the need to change the state's rules regarding teacher dismissals.
Teacher Mark Berndt is facing nearly two dozen counts of lewd conduct, stemming from a lengthy police investigation.
"Moving to dismiss a teacher triggers what can be more than a twelve-step process, often lasting several years," Villaraigosa wrote. "This can be mitigated by giving school boards more authority to dismiss teachers when the situation warrants this."
Tuesday, Republicans echoed that.
"Right now, it takes school districts months or even years to dismiss teachers who have committed sexual or other immoral acts while on the job," Assemblyman Cameron Smyth (R-Santa Clarita) said in a statement.
"A balance must be struck that protects due process but ensures vigorous safeguards are in place to quickly remove those that prey on children from the classroom," added Sen. Sam Blakeslee (R-San Luis Obispo).
Blakeslee refers to a slippery slope, of course.
Teachers need protection from false accusations, and the unions will fiercely fight to keep those protections in place. But the Republican move to introduce a package of bills aimed at speeding up legitimate punishment is sure to strike a public chord.
Mayor Villaraigosa finds himself with allies he must have never expected.
Let us know what you think. Send us your thoughts via Twitter @PropZero or add your comment to our Facebook page.