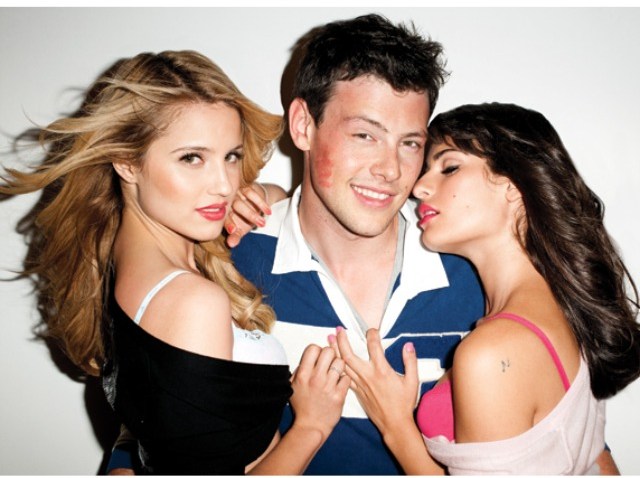 Pervy or perfectly fine?
That's the question, in so many words, raised by a racy new GQ magazine photo shoot featuring actors from the hit TV show "Glee" about a perky pack of high school theater nerds. Almost immediately after the issue containing the spread hit stands, the Parents Television Council denounced it, saying in a statement that "it is disturbing that GQ, which is explicitly written for adult men, is sexualizing the actresses who play high school-aged characters."
The magazine's editor, Jim Nelson, fired back: "The Parents Television Council must not be watching much TV these days and should learn to divide reality from fantasy. As often happens in Hollywood, these 'kids' are in their twenties. Cory Monteith's almost 30! I think they're old enough to do what they want."
U.S. & World
News from around the country and around the globe
What Nelson did not mention is that the other two cast members featured, Dianna Agron and Lea Michele, both 24, expose far more flesh than their male colleague, who is wrapped in a car coat, sweater and jeans in one shot. The women, meanwhile, are lucky to grab much more than a bra and panties, even when photographed on sets made to look like the library and a high school locker room.
All of which is to say that this hubbub may not be easy to resolve. Agron did not exactly clear things up when she took to her blog to write an equivocating apology: "If you are hurt or these photos make you uncomfortable, it was never our intention," Argon wrote, in part. "And if your eight-year-old has a copy of our GQ cover in hand, again I am sorry. But I would have to ask, how on earth did it get there?"
It's likely that the PTC's beef has less to do with eight-year-olds getting their mitts on dad's magazine, and more about sexualized images of young women most people think of as high school students.
Ironically, in its intro to the photo feature, GQ calls out its own readers for having their minds in the gutter: "How the hell did a show about high school theater geeks come to be the biggest TV show in America?" the copy says. "Well, T&A helps. (That's talent and ambition, you pervs.)"
Talent? That must be what the kids are calling fire-engine red push-up bras these days.