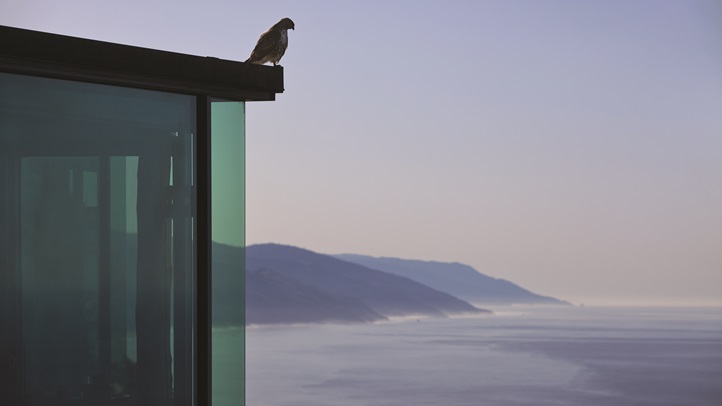 FAR FROM THE CONFETTI CROWD: We're not sure how New Year's Eve and giant crowds became synonymous in the public's collective mind. Wait, strike that: We're totally sure. Years and years and years of watching the shiny ball drop in Times Square and observing throngs of revelers gather across the world has drummed a single point into the pop culture files: The next year must be greeted en masse. There's something rather nice and community-minded about that idea, if you don't mind jostling for space and waiting in long queues for bathrooms, but some people prefer a more peaceful transition into the next calendar year. Nope, that doesn't necessarily mean you have to go silent and unkissed come midnight, but it does mean that you can seek respite in the first days of 2014 in a place where peace and non-shout-i-ness, non-boisterous-ness reigns. Let's call such places Edge-of-the-World spots, which sounds plenty poetic. Luckily California has quite a few of E.o.t.W. places, and you can go to them, and meditate, and think big thoughts about your days ahead. A few we like include...
POST RANCH INN: Or, really, any Big Sur spot that includes some wave-crashing and cliff-admiring and bird-watching and sunset-enjoying. The posh stay-a-tarium is known for being upper-crust-ian all the way, and that rep just grew a bit, with the recently redesigned South Coast House. Book a few nights there, or just head to the Sur for lunch at Sierra Mar. (You'll be so relaxed you'll shorten Big Sur to "Sur.")
CHANNEL ISLANDS: As far as California destinations that are truly Edge-of-the-World, this national park is juuuuust about the Edge-of-the-World-iest. Nature abounds, as does silence, and your only human companions are the people on the boat or any campers on the islands. Quiet stuff. Plus? Whale watching season opened the day after Christmas 'round the Santa Barbara Channel.
U.S. & World
News from around the country and around the globe
CATALINA ISLAND: If you like your Edge-of-the-World outings with a few more restaurants, Avalon is your perfect pick. Plus? There's a splashy New Year's Eve ball in the Casino Building. Still, you can head into the interior and feel very, VERY away from it all. Call it the perfect place to lay down those new year's resolutions, though you might not be totally alone, given the island's resident buffalo citizens. Certainly they're making new year's resolutions, too? Eat more vegetation? Nap more in 2014? Actually, those are both good goals for the coming year.
Copyright FREEL - NBC Local Media