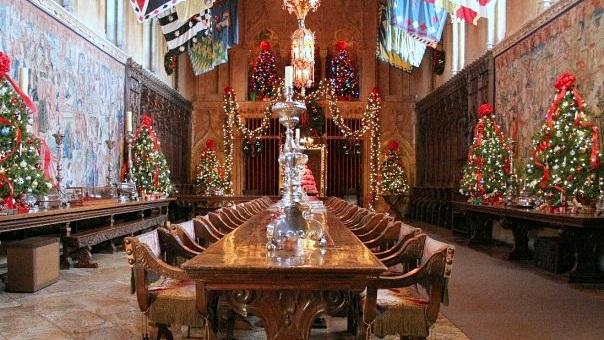 IT'S RIGHT AROUND THANKSGIVING... when many people venture out to the storage room to ponder what bows and boughs and ribbons and lights they'll unbox, all with the notion of getting the house ready for yuletide fun to come. Typically, though, at least for many of us, our holiday goodies reside in a bin or two, or perhaps three boxes maximum. Which means our lights and ornaments'll be up and on dazzling display within an hour or two, and we'll be free to move onto other major must-dos, like baking five pans of cookies (six, actually, but one obviously gets devoured during the process).
MAJOR MERRIMENT: What, though, if you had far more than a single bin of decorations to unpack? And what if you had not an apartment or house to festoon but a whole castle, a colossal structure that's known well beyond California? It would be a big undertaking, to say the least, but then Hearst Castle's annual holiday finery is an important part of its character. Guests to William Randolph Hearst's San Simeon abode count on the glitter and pomp come December, for that's tradition at The Enchanted Hill. And tradition has begun again, for 2016, for the castle's social media revealed that...
THE CHRISTMAS DECORATIONS ARE UP: And you didn't even have to wait for December to arrive. The tree is now asparkle, as of mid-November, and the wreaths and holly are up in the spaces seen on the Grand Rooms Tour. But don't dally, devotees of seasonal decorations, as the up-for-a-few-weeks grandeur is only on view through the day after New Year's Day. Make for the castle overlooking San Simeon, and the Pacific beyond, for your fill of what a posh Christmas might have been like decades ago.
Copyright FREEL - NBC Local Media