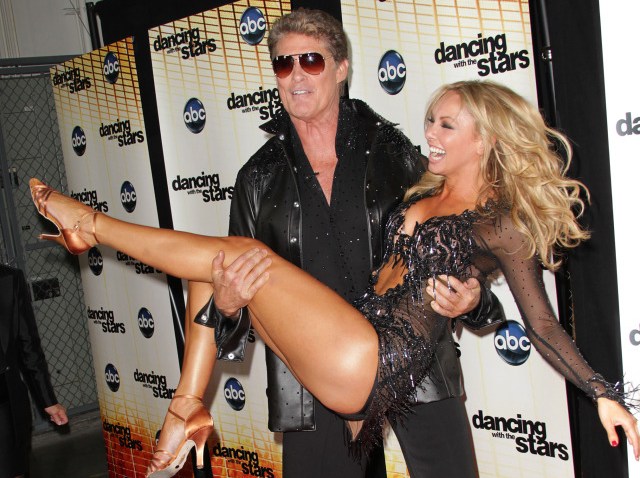 While Jennifer Grey sailed right into the top position of "Dancing with the Stars" after the initial dance-off Monday night, some of her other marquee favorite co-stars were not as lucky -- or graceful --- on the dance floor.

David Hasselhoff, one of the key draws this season, showed that he'll have to do a lot of pleading for voter support in the weeks to come if his hoofing game doesn't step up. The Hoff's hilarious but unimpressive cha-cha left left one judge literally with his head in his hands.

Here's a run-down of the top-names who are going to need organized phone banks to go anywhere in the competition.

The Hoff: As stated, the Hoff landed in last place with his dance to "Sex Bomb." While hilarious (he seemed more concerned with mouthing the words), and energetically performed, it lacked…well.. anything on the technical side.

Judge Len Goodman held his hands in his head as the dance finished and said, "It's never too early to panic."

Judge Bruno Tonioli called it "a potpourri of insanity disguised as dance." On the positive side, Hasselhoff seemed to be having the time of his life on the dance floor and the attitude was infectious. This is not something you can learn. The show is just as much as popularity contest, and he played to that. Big time.

He's not the type to get too discouraged, either. He'll pick up the pieces and keep on smiling for next week.

Further, his fan base is energized and organized. And don't count out the fact that he's a God in Germany. His fans there will find a way to have an influence, by any means possible. He'll be around at least for a few weeks, and if his dancing picks up, maybe longer. There was certainly room for improvement.

Mike "The Situation" Sorrentino: His cha-cha put him at the bottom, tied with the Hoff and comedian Margaret Cho. "The Jersey Shore" star had a good excuse. Due to filming commitments, he was only allowed five days of practice, which set him far behind the back.

The lack of anything resembling polish showed. But Sorrentino showed some decent moves in a free-flowing kind of way. If corrected, he could actually be a force on the show. As Goodman noted, "You've got the guns, but not the ammunition."

He's also got a killer smile and a genuine likeability that will carry him in weeks to come. And he didn't even show off his not-so-secret weapon -- his abs -- during the dance. Saving the ab-card for a truly rainy day.

Bristol Palin: At least she broke out of the terrible grey suit she was wearing at the beginning of the show. Palin made a big splash when her partner, Mark Ballas, dramatically tore off her outfit to reveal a sexy red dress on the dance floor.

The daughter of politician Sarah Palin also playfully mocked her mother by dancing to "Mama Told Me (Not to Come)" which was a hit. Despite some decent comments from the judges, she was awkward and tentative. Perhaps it was first week nerves. Perhaps not. And you get the sense, she might have used up a lot of her bullets with some of the stunts she pulled on the first dance.
What's worse, her personality was so flat that she's not going to do herself any favors with the unconverted fans at home. She was shockingly non-spoken as Ballas did his best to show that the pairing had some personality.
On her positive side, she has her exceedingly loyal fan base who will likely be working the phones. And there will be the inevitable appearance of the ultimate Mama Bear which will mean a big jump in one lucky week. Palin showed some possible limits, but she comes from a family familiar with overcoming the improbable.