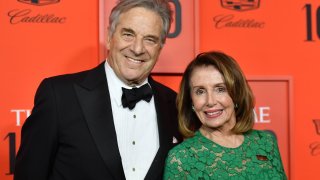 House Speaker Nancy Pelosi's husband, Paul Pelosi, was arrested for driving under the influence, officials confirmed.
Pelosi was detained and arrested in Napa County Saturday night and released on bail Sunday morning, according to Napa County authorities.
"The court information states that Paul Pelosi was hit with two misdemeanor counts: Driving under the influence as well as driving with a blood alcohol level above .08," NBC News reported.
He is facing misdemeanor charges for driving under the influence of alcohol, driving with .08 alcohol percentage and alcohol related reckless driving. His bail was set at $5,000.
According to California Highway Patrol, it all began when Paul Pelosi's Porsche was hit by a Jeep, while trying to cross Highway 29.
Nany Pelosi's office released a statement saying "the Speaker will not be commenting on this private matter which occurred while she was on the East Coast."
The House speaker was in Providence, Rhode Island, on Sunday, where she delivered the commencement address at Brown University.
Paul and Nancy Pelosi have been married since 1963.
The Associated Press contributed to the report.
Copyright AP - Associated Press