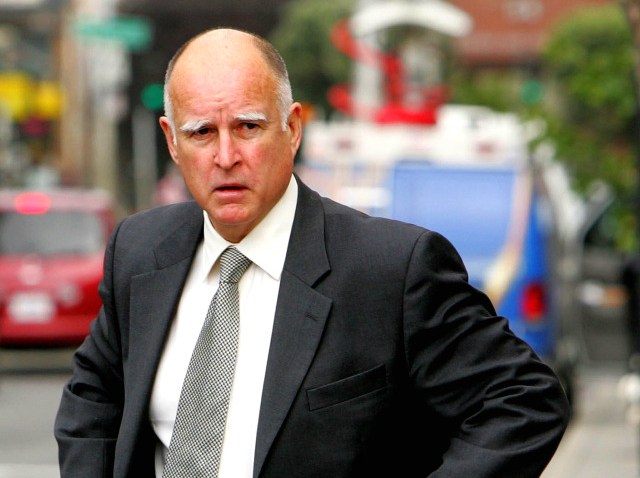 He didn't quite smile. But he was obviously pleased.
He talked about his work on behalf of Mother Teresa. How he once cut the pay of college professors and told them to make it up with their "psychic paychecks." He discussed his duties as the state's chief law enforcement officer. He spoke of subpoenas, investigations and conspiracies.
"We have a lot of work cut out for us" he says as a citizen approaches the podium and hands him information about more cases that need investigating. All this as 14 TV cameras rolled, from CNN to "Inside Edition."
U.S. & World
News from around the country and around the globe
At a time like this, it's good to be the attorney general of California.
It was clear during Jerry Brown's news conference Monday that his underfunded campaign for Governor has received a major boost thanks to the skullduggery in the City of Bell. By now
-- $100K for a part-time city council, $800K for the City Manager and so on. It appears obvious the citizens got rolled.
It is a scandal made to order for California's top cop.
Back when Jerry Brown was Secretary of State in 1970, the former seminarian championed the issue of political corruption. His first run for Governor four years later was accompanied by Proposition 9, the Political Reform Act, which promised to curtail the kind of big money lobbyists could spend on politicians and candidates. Prop 9 also gave us the Fair Political Practices Commission.
Brown won that election in large part because of his reformist image. Now the issue has returned (more likely it never went away).
So while Jerry Brown receives free media airtime and bathes in the image of a prosecutor seeking to get the poor taxpayers of Bell their money back his GOP opponent scrambles for an opening. Some of Meg Whitman's campaign staff have been sniffing around Bell to see if there is anything new the candidate herself can advance. Meanwhile the campaign has been doing a lot of research on Jerry Brown's own tenure as a municipal employee.
That of course would be his term as Mayor of Oakland.
The Whitman opposition research team has pointed to past articles in bay area alleging how Brown's city manager in Oakland reportedly cashed in nearly $200K in unused vacation and sick leave. That Brown's personal advisor Jacques Barzaghl , according to the SF Chronicle, made about $123,000 and cost the city an extra $50,000 in a sexual harassment lawsuit.
"Inside Bay Area" reported that over 1,100 Oakland workers made over $100,000 in one year. Whitman spokesman said Brown is "the least credible politician to crack down on Bell and its lavish pay-outs for public employees."
Perhaps that will make for a good talking point during a debate. For now all the Whitman folks can do is hope Brown stumbles in his investigation of the Bell city rip-offs. A probe he says will take months, lasting well into the fall.