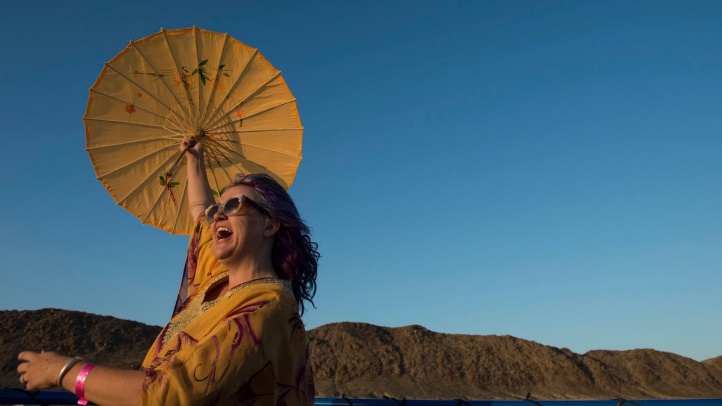 SUNSHINE ON THE OUTSIDE? You can sense it, through the temperature, and the heat on your skin, and the brightness of the world around you, and the beauty of the beams as they touch the flowers, trees, or other things existing in your field of vision. Sunshine on the inside? That doesn't involve hotness or brightness, in the ways we think of them, but it does have to do with taking delight in life, at enjoying a certain level of peace with yourself and the world, and continually cultivating a curiosity about the universe. Find sun on the outside is easy, once you're in the Joshua Tree neck o' the woods, because the desert does bask in some heavy beamage, pretty much throughout the year. But the sunshine on the inside part is way, way upped when the...
JOSHUA TREE MUSIC FESTIVAL... rolls back into the Mojave, all to deliver a long weekend of positive vibes, feel-deep tunes, and activities centered on centering yourself (or at least shaking off some of the stress burrs that life so predictably throws our way). The Spring Festival will bloom, as pretty as a cactus flower, from May 16 throguh 19, and the to-dos will be as numerous as the blossoms atop an ocotillo. The Positive Vibration Station is a sweet stop, should you seek sound healing, and Kidsville invites the festival's young'uns to play. Yoga, too, is part of the heart, as is a vibrant art scene.
AND ON THE STAGE? Vintage Trouble, Oliver Koletzki, Dynohunter, and several more music-making outfits'll bring the global beats, the tasty blues, the electro sweetness, and the funky soul to crowds ready to dance, sway, and take in each and every note. Tickets, times, and everything you need to know about this vibrant desert come-together party? Soak in the sunshine, inside and out, right now.
Copyright FREEL - NBC Local Media