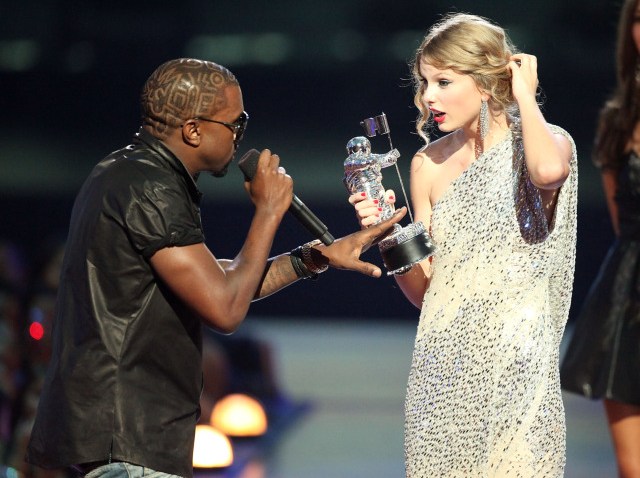 Forget the awards and performances from some of the biggest names in the music business. The biggest question hanging over the white carpet at the MTV Video Music Awards in Los Angeles was whether the nation -- and Taylor Swift -- can finally forgive Kanye West for his televised antics of one year ago.

The rapper is eager to prove he has changed his ways after he rushed the VMA stage last year and interrupted Swift's acceptance speech for Best Female Video. His misguided mission: to let the world know that Beyonce had deserved the award.

His world has been filled with Swift pain ever since.

West literally took the microphone away from the girl-next-door singer and began his now infamous televised interruption.

"Taylor, I'm really happy for you, and I'm gonna let you finish," West said as Swift looked on in shock. "But Beyonce had one of the best videos of all time."

The Kanye backlash was immediate and overwhelming. Even President Obama weighed in and called him "a jackass." Many of Taylor's legions of fans were even harsher.

The furor has continued unabated even through the week prior to this year's VMA's -- especially since the rapper and Swift will meet again at the scene of his crime.

Just for good measure, West took to his Twitter account last weekend and apologized to Swifts fans, and Swift herself -- again. It's an apology that's sure to continue through the award program.

"I'm sorry, Taylor,'" West Tweeted.

"She deserves my apology more than anyone," he added. "She had nothing to do with my issues with award shows. She had no idea what hit her. She just lil girl with dreams like the rest of us."

Beyond apologizing to Swift, West also sought to repair some of the extensive damage to his career and reputation the public fallout from the incident has caused.

"I became George Bush overnight," he wrote.

"How deep is the scar...I bled hard," West continued, referring to the fact that Lady Gaga refused to tour with him following the incident. "Canceled tour with the number one pop star in the world...closed the doors of my clothing office."

West has said he has even written a song for Swift as the ultimate musician's apology. The rapper is due to perform at the awards, but it is not clear if he will sing that song or how he will address the Swift fiasco of last year.

Presenters for the evening include Cher, Ellen DeGeneres, Katy Perry and the cast of "Jersey Shore."