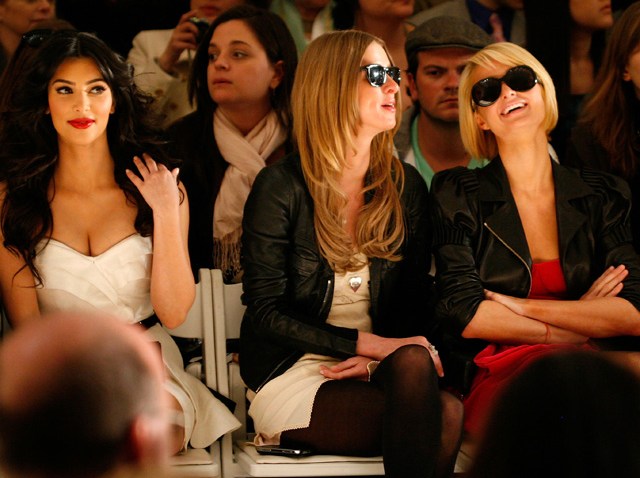 Kim Kardashian is finally throwing a little credit Paris Hilton's way, thanking the hotel heiress for helping her learn the ropes that eventually led her to becoming a successful celebrity.
In a new interview with Harper's Bazaar's March issue, Kim said that in the mid 2000's, she and Paris went globe trotting, where they were captured by the paparazzi having a fabulous time.
VIEW THE PHOTOS: Reality TV's Brunette Bombshell Kim Kardashian!
U.S. & World
News from around the country and around the globe
"We had so much fun," Kim, who appears on the magazine's cover, said. "I had never traveled the world like that. It was so neat, all the things we did. I think I learned a lot from her."
Now, however, things have changed and Kim confirmed that her relationship with Paris has since cooled.
VIEW THE PHOTOS: Paris Hilton's Journey From 'Simple' To Superstar!
"We don't really talk. As I always say, everyone comes into your life for a reason, a season, or a lifetime. And she was in my life for a long time," Kim told the mag. "There comes a point in life where you just grow apart and you realize you're not as similar as you thought. And I never run into her anywhere. Isn't that so weird?"
The "Keeping Up with the Kardashians" and "Kourtney and Kim Take New York" star said she also credits her late father, famed O.J. Simpson attorney Robert Kardashian, and her mother, Kris Jenner, for instilling in her a good work ethic.
"My parents raised us saying that at 18, we'd be cut off," she said. "If we wanted this lifestyle, we had to work extra hard to get it. All of our friends had credit cards and cell phones, but that wasn't even a possibility."
VIEW THE PHOTOS: Inside Kim Kardashian's 30th Birthday Bash!
For the magazine, Kim didn't just agree to be interviewed, but she posed questions to screen legend Elizabeth Taylor.
The two talked jewelry and great loves, and Dame Liz revealed there are a few modern day hunks of the big screen she would have loved to join on film.
VIEW THE PHOTOS: Elizabeth Taylor
"I love Johnny Depp, and I love Colin Farrell – both brilliant, nuanced actors with great range," Liz told Kim.
The Dame also revealed that she expected she would have re-married her legendary love Richard Burton had he lived longer.
"It was inevitable that we would be married again, but it's not up for discussion," she said.
Copyright 2011 by NBC Universal, Inc. All rights reserved.
This material may not be published, broadcast, rewritten or redistributed.
Related Content from AccessHollywood.com:
PLAY IT NOW: Kim Kardashian's Tips For A 'Sexy & Fun' Valentine's Day!
PLAY IT NOW: Kim Kardashian: The Golden Globes Was A 'Great Show'
More from Access: [ Kim Kardashian Reality TV TV ]
Copyright NBCAH - Access Hollywood