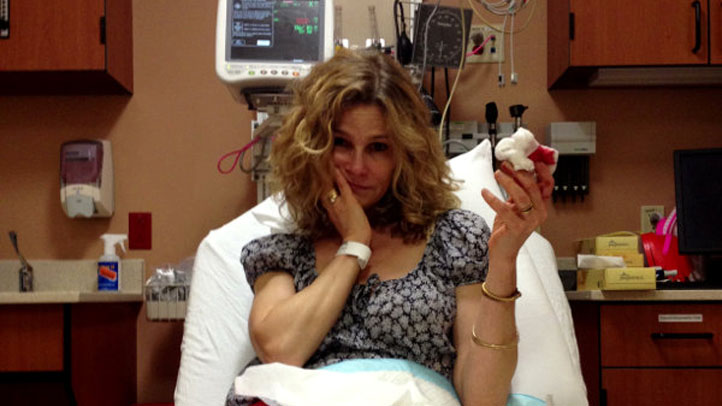 Ouch!
Kyra Sedgwick is recovering after accidentally cutting off the tip of her finger while cooking some kale on Saturday. The 47-year-old actress's husband, Kevin Bacon, took to his Twitter and Whosay pages to share photos of Sedgwick post-finger chopping.
"@kyrasedgwick in the ER. Kale isn't ALLWAYS HEALTHY... if you chop the end of your finger off," Bacon posted along with a photo of her in the hospital.
U.S. & World
News from around the country and around the globe
PHOTOS: Find out stars' weirdest phobias
In the photo, an injured Sedgwick lies on a hospital gurney with a bloody bandage wrapped around her left hand. The former "Closer" star, who is dressed in red pants and a printed navy top, looks understandably discouraged as she puts her right hand over her cheek while surrounded by medical equipment.
Bacon, 54, later followed up on his wife's condition with a photo and a caption that read, "My Baby is fine. All good. Still can't find the tip of that finger @kyrasedgwick."
In the second pic, Sedgwick is in the same outfit and is wearing a giant white bandage over her left index finger. She even flashes a post-injury smile and gives a thumbs-up with her right hand while showing off her oversized bandage.
PICS: "Dancing With the Stars'" biggest injuries
Sedgwick isn't the only celeb who has had finger problems recently. Sandra Bullock's ex Jesse James recently cut off part of his right pinky finger in an accident that happened in his Austin motorcycle shop. Earlier last month, James stepped out with a bandage over his finger just a few weeks after he chopped it off.
When the incident happened, James shared gruesome photos of his bloody sawed-off finger on Twitter, writing, "Doesn't look like this little dude's gonna make it, Nice know'n you little buddy." He also wrote, "OOOpps, Bad day at the office. Headed 2 Surgery in a few #PayUpSucker @ University Medical Center," along with another photo of his injured hand. He later had surgery on his pinky.
Copyright E! Online