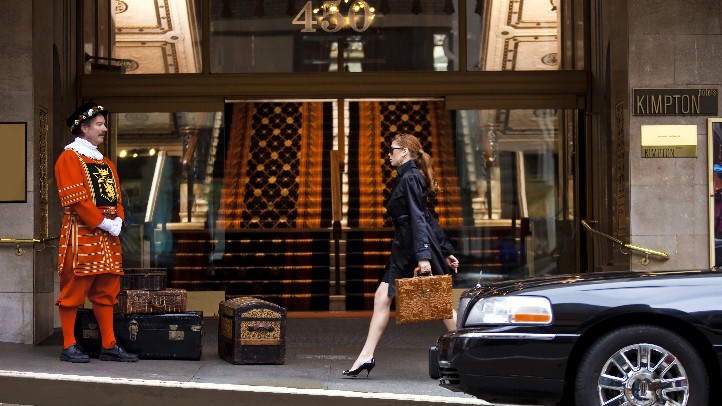 THREE FAVORITE THINGS: A certain stretch of Powell Street instantly summons a trio of our very favorite things. One? Queuing up outside Sears Fine Foods while deciding if 18 small Swedish pancakes will be quite enough to sate our hunger, or if we'll be eating our friend's pancakes, too. (Likely.) Two? Happy cable car-riding riders making that big ascent/descent. And three? The strikingly attired beefeater bellhops just across the street from our Sears queue. Why aren't we looking quite as dashing as the Sir Francis Drake beefeaters, we think to ourselves. Where are our red bloomers? Our lovely hats? You have beefeater envy too, right?
LONDON VIA POWELL: But the great thing about the Kimpton hotel's famous and much-photographed greeters is that they're on the property all the time, not just when the Olympics land in London and everyone's Anglomania goes through the proverbial roof. Meaning that if you want to get into the spirit of the games without making the UK trip, you can, at the Drake, and you can say hello to a beefeater, too.
OLYMPICS PACKAGE: The Sir Francis Drake has a few things going for the 2012 Olympics. One? A special cocktail called the Five Rings (the hotel has kindly provided us the recipe; see below). Pimm's is involved, so hurrah that. And the other Olympics-inspired deal going down at the hotel? An Olympics Games Package. There's a food credit involved, and a whisper of tea and scones. Interested? There's a code to know before you book. Pip pip, etc., and so forth.
U.S. & World
News from around the country and around the globe
AND NOW THAT DRINK:
1 oz Plymouth gin
1 oz Pimms No.1
1 oz Lemon Juice
8 Mint leaves
3 slices cucumber
Bundaberg peach soda
Shake, double strain and top with peach soda
Served in a tall glass on the rocks
Garnished with a lemon wheel
Thanks for sharing, Sir Francis Drake and Kimpton. Raising a glass in your direction now.
Copyright FREEL - NBC Local Media