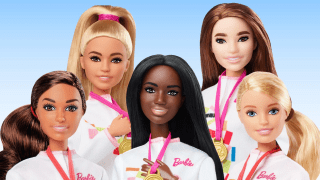 The Mattel toy company said it missed the mark in introducing an Asian Barbie doll in its new inclusive Olympics line, NBC News reports.
Last year, the company collaborated with the International Olympic Committee and Tokyo 2020 organizers to develop a line of dolls for the Games. At the time, the company said the collection, which includes five dolls representing the five new sports added to the Olympics, would highlight "inclusivity."
After having recently reignited promotion for the Olympic Barbie dolls, the company got online backlash that its lineup didn't include a Barbie who appeared to be Asian.
The company said its skateboarding doll was meant to represent the Asian American community, but some Twitter users have said that they felt the Barbie doesn't look Asian.
"Our intention to represent the Asian community with the Skateboarder doll fell short and we fully receive and recognize the feedback," a spokesperson said in a statement.
Each of the five dolls in the collection reflects the five new sports that had been added to the Olympics — softball, sport climbing, karate, skateboarding and surfing.
U.S. & World
News from around the country and around the globe
Read the full story on NBCNews.com.