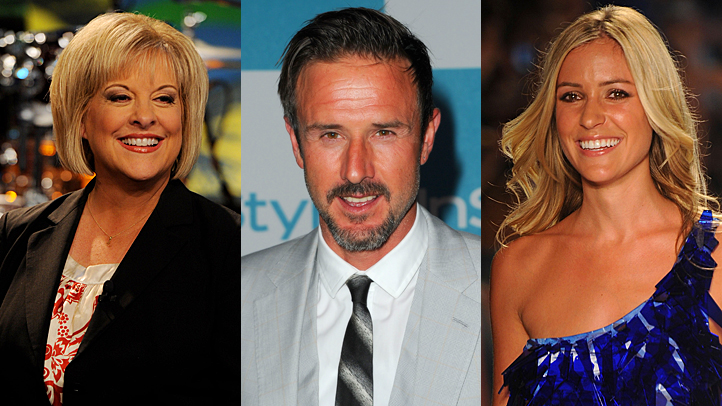 Who will be more intriguing to watch cut the rug: Chaz Bono or Nancy Grace? Or perhaps you'll enjoy seeing David Arquette or Kristin Cavalleri rumba and tango?
They're among the celebrities – we hesitate to call all of them "stars" – who will slip into dancing shoes, spray tan and body glitter for the 13th season of "Dancing With the Stars." Host Tom Bergeron and Brooke Burke made the lineup of Mirror Ball Trophy contenders official during Monday night's broadcast of "Bachelor Pad," a roster that reads slightly a bit more toward "Dancing With Blood Relatives and Exes of the Stars."
David Arquette
U.S. & World
News from around the country and around the globe
Claim to Fame: Movie actor best known for the "Scream" films and recently ended marriage to co-star Courteney Cox
DWTS Archetype: Kooky Former A-Lister In Need of Career Rehab (Think Kirstie Alley, Shannon Doherty, Pamela Anderson)
Kristin Cavalleri
Claim to Fame: The bitchy one – the really, really bitchy one – on "Laguna Beach" and "The Hills"
DWTS Archetype: Reality TV Babe Who'll Rock the Skimpy Outfits (Think Audrina Patridge, Melissa Rycroft, Kendra Wilkinson)
Nancy Grace
Claim to Fame: Legal pundit, courtroom commentator and TV host
DWTS Archetype: The "WTF Are THEY Doing Here?" Contender (Think Tucker Carlson, Jerry Springer, Steve Wozniak)
Rob Kardashian
Claim to Fame: Brother of Kim, Kourtney, Khloe, et al.
DWTS Archetype: The One Who'll Puts Famous Friends and Family In the Audience (Think Bristol Palin, Drew Lachey, Kelly Osbourne)
Elizabetta Canalis
Claim to Fame: Italian actress who dated George Clooney
DWTS Archetype: The One You Really Only Know From Tabloids (Think Kate Gosselin)
Carson Kressley
Claim to Fame: Fashion maven known for hosting "Queer Eye," "How to Look Good Naked" and "Carson Nation."
DWTS Archetype: The One Who Really Did Just Say That (Think Cloris Leachman)
Rikki Lake
Claim to Fame: Actress and daytime talk show host
DWTS Archetype: The Spunky Mom-ish One You Want Root For as They Drop Dress Sizes (Marissa Jaret Winokur, Marie Osmond)
Ron Artest aka Metta World Peace
Claim to Fame: Los Angeles Laker small forward and rap artist
DWTS Archetype: The Hot Sports Star (Think Chad Ochocinco, Jason Taylor, Rick Fox)
Chynna Phillips
Claim to Fame: One third of '90s music group Wilson Phillips, wife of William Baldwin, daughter of "Papa" John and "Mama" Michelle Phillips.
DWTS Archetype: The One We Totally Used to Love a Decade Or Two Ago! (Think Donny Osmond, Jennifer Grey, Ralph Macchio, Jewel)
Chaz Bono
Claim to Fame: Transgendered offspring of Sonny and Cher
DWTS Archetype: The One Whose Intriguing Personal Journey Will Get a Lot of Play (Think Lance Bass, Kelly Osbourne)
Hope Solo
Claim to Fame: Professional soccer goalie
DWTS Archetype: The Adorable Olympian (Think Kristie Yamaguchi, Sean Johnson, Misty-May Treanor)
J.R. Martinez
Claim to Fame: Former Army infantryman-turned-"All My Children" actor whose body was burned during a tour of duty in Iraq
DWTS Archetype: A Genuinely Original, One-of-a Kind-Spin on the Traditional DWTS ABC Soap Star
The show's celebrity/professional dancer pairings will be unveiled on "Good Morning America" on Wednesday, Aug. 31. Season 13 of "Dancing With the Stars" debuts on Monday, Sept. 19, on ABC.