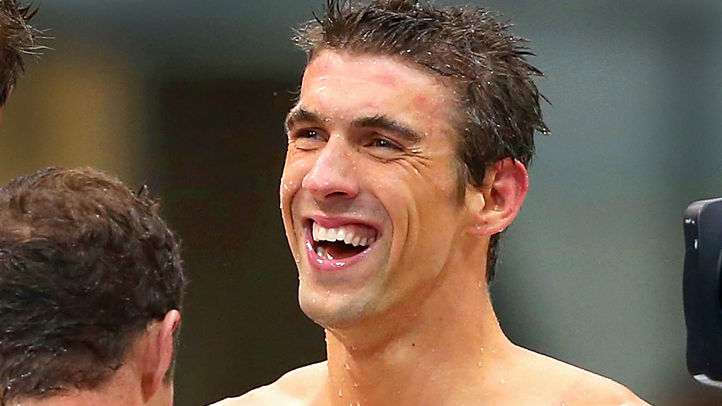 Michael Phelps put an exclamation point on one of the greatest Olympic careers of all time, winning his 18th gold medal on Saturday when he led the U.S. 4x100-meter medley relay team to victory during the last swim of his Olympic career.
Phelps' teammate Matthew Grevers swam the backstroke leg to start things off, establishing a lead that Brendan Hansen couldn't maintain on his breaststroke leg. Phelps took over, and chased down Takeshi Matsuda of Japan to regain the lead for Nathan Adrian, who finished a win as convincing as it was historic.
The four Olympic champions held hands as they ascended the podium, raising their fists in triumph. Giant grins stretched across their faces as their latest gold medals were draped around their necks. As the final strains of America's national anthem died out, Phelps and company received one last standing ovation.
U.S. & World
News from around the country and around the globe
Phelps then walked past the stands where his mother was seated and tossed to her this final Olympic bouquet, but she dropped it on the first try. After the medal ceremony, Phelps was honored with an individual ceremony and a silver trophy in recognition of his record-breaking career.
"I have somehow managed to do every single thing," Phelps said, according to the Associated Press. "If you can say that about your career, there's no need to move forward. Time for other things."
The win for the men's team came just minutes after Americans Missy Franklin, Rebecca Soni, Diana Vollmer's and Allison Schmitt brought home gold in the same event, with a world-record time of 3:52.05. (It also came on the busiest day of the Olympics, packed with important track events, tennis and beach volleyball.)
Now the most decorated Olympian of all time, Phelps has racked up 22 medals, 18 of them gold. He also holds two three-peat records following his showdown with rival/teammate Ryan Lochte in the 200m individual medley on Thursday, and his win in the 100m butterfly final Friday.
It's been an astonishing run at the London Games, not just for Phelps but also for Team USA swimmers, who won 30 medals at the London 2012 Games.
For Phelps the day was surely bittersweet.
This was supposed to be the year Phelps passed the torch Ryan Lochte, who came to London expecting to be anointed the new face of Team USA. But Phelps had second thoughts.

When Lochte won the men's 400m individual medley, with Phelps a distant fourth, it was first time since 2000 that Phelps failed to earn a medal in an event, and everything appeared to be going by the script. Instead, however, that failure was his only slip the rest of the week.

The next day saw Phelps open a huge lead in the second leg of the men's 4x100-meter freestyle relay, one that Lochte surrendered to France, as the Americans had to settle for silver.

Phelps again took silver, this time in the men's 200m butterfly, which put himself in a tie with Russian gymnast Larisa Latynina as the most decorated Olympian, with 18 medals, before promptly winning gold in the men's 4x200-meter freestyle relay to pass her.

He then edged out Lochte in the men's 200m individual medley for his 20th medal. And then, on Friday, in the 200-meter butterfly, Phelps took gold in his third consecutive race, bringing his career medal count to 21.

To put Phelps' success into perspective, consider that this has been only his third best Summer Olympics.
Born June 30, 1985, in the suburbs of Baltimore, Phelps followed in the footsteps of his sisters, which led straight to the pool. When he was 9, he was diagnosed with attention-deficit hyperactivity disorder (ADHD), but still managed to establish himself as an elite swimmer by the time he was 10.

In 2000, at the age of 15, he became the youngest male in 168 years to make the U.S. Olympic swim team. It would be the only Olympiad at which he would fail to medal.

But it was in Athens, at the 2004 Olympic Games that Phelps made his mark on the national consciousness, winning six gold medals and and two bronze. It was a remarkable run that set impossibly high expectations for his generation's greatest swimmer.

Phelps went to the 2008 Olympics in Beijing with the world hoping to see him beat the 36-year-old record of Mark Spitz, another American swimmer, who won seven gold medals at a single games. Phelps would not disappoint, winning eight gold medals and establishing as an American sports idol.

Unfortunately, the only thing we love more than idolizing people, is watching idols fall, and so it was that in February the following year a photo emerged of Phelps doing a bong hit, behavior he would term, "inappropriate." The ensuing outrage and moralizing stained his image and cost him endorsement deals.

But that was four years ago, and America, as General Patton once observed, loves a winner. Say what you will about Michael Phelps, the man is a winner, as he proved for the eighteenth time today