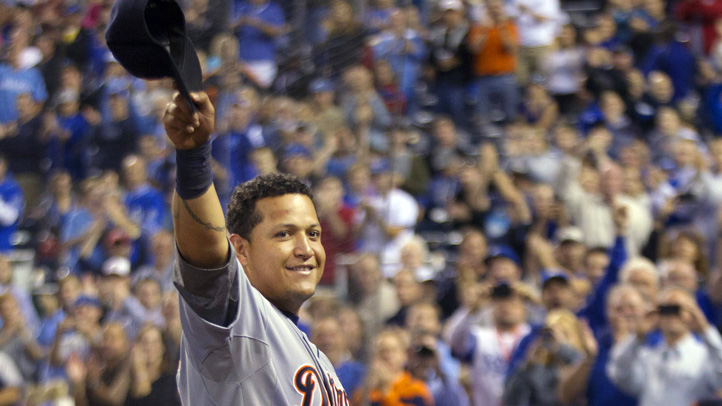 Miguel Cabrera has etched his name alongside some of baseball's greats, taking his place among men like Ted Williams, Rogers Hornsby, Ty Cobb, Mickey Mantle and Lou Gehrig.

Despite going 0-for-2 and getting pulled after the third inning, Cabrera finished the season with a .330 batting average, 139 RBI and 44 home runs, each of which is good enough to lead the American League, thereby making him the first man in 45 years to win the Triple Crown.
Heading into Wednesday's action, Cabrera led Josh Hamilton of the Texas Rangers in home runs by one and RBIs by 11, while holding a seven-point lead in batting average over Los Angeles Angles rookie phenom Mike Trout. The drama would be over fairly early.

Two home runs in a game are well within Hamilton's ability, he's done it three times just this year, including a four-homer game in May. But denying Cabrera even a share of the RBI lead would've required tying the single-game record of 12 RBI held by Jim Bottomley and Mark Whiten. Instead, Hamilton went homerless in five at-bats as the Rangers lost the game and the AL West division title to the Oakland A's.

Trout, who'd gone 9-for-22 over his previous four games to bring his average up to .324, came up short, going 2-for-3 in a 12-0 loss to the Seattle Mariners in finishing up a historically great rookie season with a .326 average.
Before you criticize Cabrera for leaving the game early rather than risking his batting average going lower still, he would've had to go hitless in seven more at-bats to fall behind Trout, who will find himself in another fight with Cabrera come the off-season, as they're the only two men with a serious shot at the MVP award.
U.S. & World
News from around the country and around the globe
Boston Red Sox left fielder Carl Yazstremski was the last man to do it, batting .326 with 121 RBI and 44 home runs in leading the AL in each category, while leading his team to the American League pennant.
Cabrera is now one of just 12 men since 1901 who've won the Triple Crown a total of 14 times, with Ted Williams and Rogers Hornsby the only two ever to do it twice. Lest you think it makes Cabrera a slam dunk for the MVP, consider that since the advent of the MVP, there have been five times that a player won the Crown, but not the MVP.