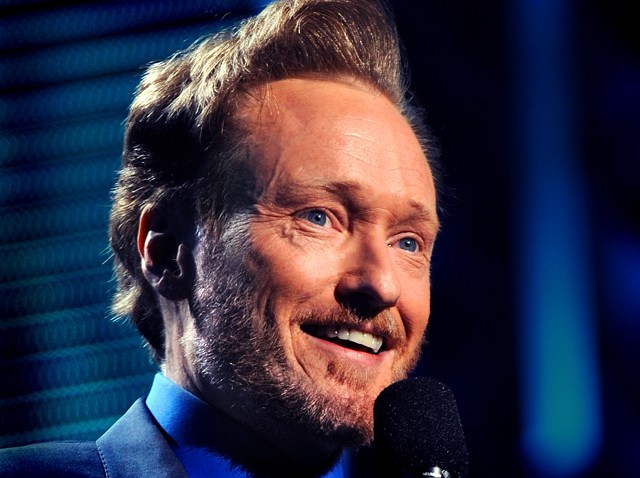 Welcome to Watch List, where we identify five things on TV to watch while you stay at home and get promoted by your boss, only to get demoted by your boss once your retired colleague decides to unretire, only to be let go by your boss and allowed to walk to a smaller company that promises less money but will allow you to keep your beard. LET'S GO!

CONAN – 11:00PM (TBS) You've been waiting 11 long months for Coco to return to the airwaves. And now, at last, the prodigal son returns ($45 million richer) with his own new late night show on TBS. The debut of "Conan" marks a milestone in many ways. Conan will be the first real late night cable competitor Jon Stewart has ever had, Chelsea Handler aside. Conan's show also creates an entire late night talk show block for TBS (George Lopez airs after, more on that in a second), which means other cable networks could soon follow suit (FX? Bravo?), further eating away at the long-standing late night dominance of the broadcast networks. This could be the beginning of a whole new THING, or it could just be Conan making jokes with Pimpbot. Either way, it's all terribly exciting.

The thing that should enthrall late night fans most of all about Conan's new show is that it revitalizes the entire category. Late night TV was at its best when Conan was leaving NBC back in January, and the focus that Conan brings back to the genre means that Letterman and company will all be trying to step up their game. Jon Stewart, who I think has coasted by for a while now with relatively easy jokes about Republicans, is gonna have to work a little bit harder with his buddy cannibalizing hipster viewers. And the creative leeway that TBS surely is allowing Conan means he'll be completely untethered, free to go anywhere he pleases with his brand of insane (but never insulting) comedy. It should be something to watch. Conan's guests for the maiden voyage include Seth Rogen and Lea Michele, and Andy Richter returns as Conan's sidekick (BOOSH!). Strap on in. You've waited long enough. ANTICIPATION: HIGH!

HOARDERS – 10:00PM (A&E) A woman's basement is so horribly cluttered that she doesn't even realize that a homeless man has been living in it. It's like a "Family Guy" joke sprung to life. ANTICIPATION: HIDDEN WINO!

HOUSE – 8:00PM (A&E) Back in time for November sweeps, "House" introduces Amber Tamblyn this week as a temporary (but hopefully permanent) replacement for Olivia Wilde's tiresome Thirteen character. But more exciting than that, the show brings in Jack Coleman for a guest turn. Mr. Horned Rimmed Glasses himself. The only good thing about "Heroes." I hope he's crazy evil. ANTICIPATION: SINISTER!

MATT LAUER REPORTS – 8:00PM (NBC) Our "Today" show host has a candid sitdown with former President George W. Bush in advance of his new memoir, "Decision Points," though I think it would be more enjoyable if the book were called "Decider Points." And what is a decision point? Shouldn't the correct title be "Decisions"? I'm not scolding. I'm just being a snot-nosed punk. ANTICIPATION: BUSHHHHHH!

LOPEZ TONIGHT – 12:00AM (TBS) But it's NOT tonight anymore! It should be called, "Buenas Lopez!" Lopez' show has been completely retooled, with a new producer, set and taping schedule (they used to take three hours to tape each show. HOLY UNDERWEAR!). So check it out. ANTICIPATION: LOPEZZY!