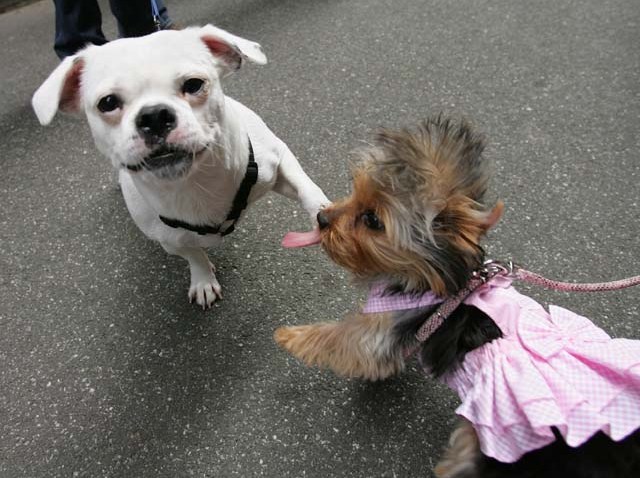 Welcome to Watch List, where we identify five things on TV to watch while you stay at home and sit inside your custom-made human egg. LET'S GO!

135th ANNUAL WESTMINSTER KENNEL CLUB DOG SHOW – 8:00PM (USA) With continuing coverage at 9PM over at CNBC. It's the most prestigious dog show in America. Watch as single people in their 40's wear dorky looking shoes and parade around dogs that they personally amputated at the tail. This show is always watchable thanks to the enduring awkwardness of both the owners and the judges. Plus, it's fun to watch everyone clap wildly for the golden retriever. Everyone loves golden retrievers. Groups on display for opening night include the hound, toy, sporting and herding groups. Coincidentally, you can also separate men into those four same groups. Me? I'm a toy. Ask any woman whose pool I clean. ANTICIPATION: WOOF WOOF!

MAD LOVE – 8:30PM (CBS) CBS, masters at integrating new comedies into their Monday lineup, unleash this brand new comedy tonight starring Jason Biggs (he was the guy in "American Pie" who, you know, did that thing with the pie) and former "Scrubs" luminary Sarah Chalke. Both stars will need their considerable charms to overcome the premise, which involves four single people in New York, two of whom meet cute atop the Empire State Building, even though no one who lives in New York would ever go to the top of the Empire State Building for any reason ever. Also the name of an old Drew Barrymore/Chris O'Donnell movie. Thankfully, this is NOT based on that movie. ANTICIPATION: MILD!

THE TONIGHT SHOW WITH JAY LENO – 11:30PM (NBC) After popping out of an egg last night, newly free singer Lady Gaga heads over to Jay's show for a set. Since our girl is still newborn, I assume she'll need lots of burping and changing. ANTICIPATION: GAGA!

LATE SHOW WITH DAVID LETTERMAN – 11:30PM (CBS) Letterman counters Jay's Gaga Offensive by revealing the identity of the Sports Illustrated swimsuit issue cover model tonight, a closely guarded secret that is of vital importance to men over 60 who have yet to discover Internet porn. Also on hand are 10 of the issue's models to run down the Top Ten List. If they're wearing sling bikinis, the list could be in German and no one would care. ANTICIPATION: CHEESECAKE!

HOUSE – 8:00PM (FOX) A waitress has an amazing memory, which means she probably remembers that "Heroes" had this exact same plotline in its first season, when Sylar tracked down the waitress and cut her head open and ate her brain. I assume House will do likewise this evening. ANTICIPATION: SMARTYPANTS!