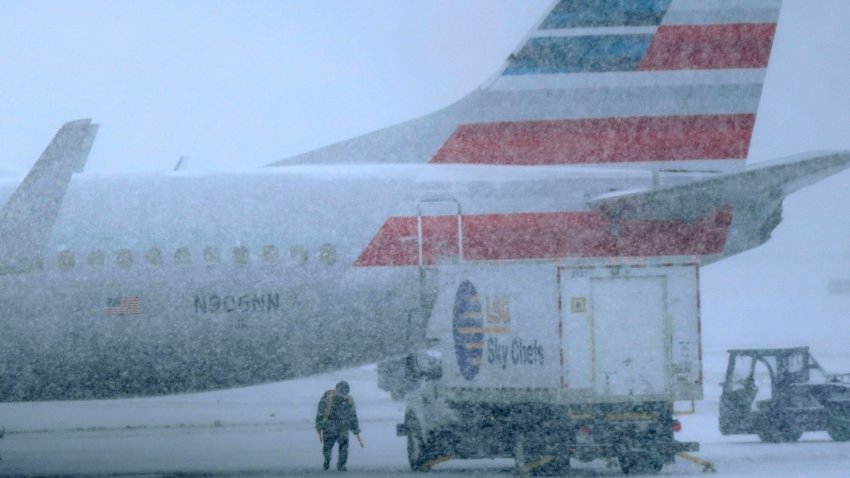 About 350,000 homes and businesses lost power across the U.S. on Thursday as freezing rain and snow weighed down tree limbs and encrusted power lines, part of a winter storm that caused a deadly tornado in Alabama, dumped more than a foot of snow in parts of the Midwest and brought rare measurable snowfall and hundreds of power outages to parts of Texas.
As night fell Thursday, almost 150,000 Tennessee customers were without power, including about 135,000 in the Memphis area alone — or one-third of the customers of Memphis Light, Gas & Water.
A long stretch of states from New Mexico to Maine remained under winter storm warnings and watches and the path of the storm stretched further from the central U.S. into more of the South and Northeast. Heavy snow was expected from the southern Rockies to northern New England, while forecasters said heavy ice buildup was likely from Texas to Pennsylvania.
More than 4,000 flights within, into or out of the U.S. were canceled for Thursday as of 10:30 a.m., according to flight tracking website FlightAware. Many of those flights were for airports in the Dallas and Austin areas.
The severe weather prompted Texas, Dallas-Fort Worth International Airport to close Thursday about 6 a.m., according to the Federal Aviation Administration.
The highest totals of power outages blamed on icy or downed power lines were concentrated in Tennessee, Arkansas, Texas and Ohio, but the path of the storm stretched further from the central U.S. into the South and Northeast on Thursday.
At least one person was killed in a winter storm system that spawned a tornado in Alabama and left wide swaths of the Mid-South glazed over Thursday.
In Hale County, Alabama, a woman died and eight others were injured after the tornado swept through the area Thursday afternoon, Hale County emergency director Russell Weeden said. Damage was reported across the county, which is about 35 miles south of Tuscaloosa.
Thursday's ice storms left roads dangerously slick and many without power across the southern portion of the country, officials said.
"We have a lot of real estate covered by winter weather impacts this morning," Andrew Orrison, a meteorologist with the National Weather Service in College Park, Maryland, said early Thursday. "We do have an expansive area of heavy snow, sleet and freezing rain occurring."
Parts of Ohio, New York and northern New England were expected to see heavy snowfall as the storm moves to the east with 12 to 18 inches of snow possible in some places through Friday, Orrison said.
The Ohio Valley was especially affected Thursday, with 211 flight cancellations at Cincinnati/Northern Kentucky International Airport on Thursday. An airport spokeswoman told the Cincinnati Enquirer that all flights were canceled Thursday except for Delta Air Lines and American Airlines flights before noon.
However, ice accumulations were expected to be the primary hazard from central and eastern Pennsylvania through the Catskill Mountains of New York to New England, NWS meteorologist Rich Otto said Thursday evening.
More than 20 inches of snow was reported in the southern Rockies, while more than a foot of snow fell in areas of Illinois, Indiana and Michigan.
"Unfortunately we are looking at enough ice accumulations that we will be looking at significant travel impacts," Orrison said.
Texas had about 70,000 power outages Thursday morning, far from the more than 4 million outages that paralyzed the state during the February 2021 freeze in one of the worst blackouts in U.S. history.
The 2021 winter storm caused billions of dollars in damage and has been blamed for 247 deaths — with 161 from "cold exposure-related injuries," according to a Texas Department of State Health Services report.
South Bend, Indiana, reported a record snowfall for the date on Wednesday with 11.2 inches, eclipsing the previous record of 8 inches set on the date in 1908, said Hannah Carpenter, a meteorologist with the National Weather Service's office in Syracuse, Indiana.
Once the storm pushes through, she said temperatures will see a big drop, with Friday's highs mostly in the upper teens followed by lows in the single digits in northern Indiana, along with bone-chilling wind chills.
"It's definitely not going to be melting real quick here," Carpenter said Thursday morning.
The frigid temperatures settled into areas after the snowy weather, with Kansas residents awakening to dangerous wind chills of around 15 below zero. In New Mexico, schools and nonessential government services were closed in some areas Thursday because of the icy roads.
The disruptive storm began Tuesday and moved across the central U.S. on Wednesday's Groundhog Day, the same day the famed groundhog Punxsutawney Phil predicted six more weeks of winter. The storm came on the heels of a nor'easter last weekend that brought blizzard conditions to many parts of the East Coast.
Copyright AP - Associated Press