A fire dubbed the "Morgan Fire" burning near Mount Diablo State Park in California quadrupled in size from Sunday night, charring a total of 3,700 acres by Monday afternoon and forcing evacuations of about 100 homes.
That was more than double the number from early Monday morning, when the blaze had charred 1,500 acres, and four times the size of Sunday's peak – 800 acres – after the brush fire broke out just after 1 p.m. on the eastern side of Mount Diablo.
Despite the increase in size, a cast of local and state firefighters had contained 20 percent of the fire by Monday afternoon, up from 10 percent in the morning. And still, only one remote outbuilding had burned, though 100 homes remained threatened.
"The fire has grown significantly," Cal Fire Division Chief Dave Shew told NBC Bay Area. He could not estimate when the fire might be contained. That, he said, might become more clear in the next day or two.
U.S. & World
News from around the country and around the globe
PHOTOS: Mt. Diablo Morgan Fire
As the fire expanded, crews worked furiously to prevent the flames from licking a PG&E transmission line, communications infrastructure on the peak of the mountain and historical buildings nearby.
And because of the amount of smoke billowing from the mountaintop, the Bay Area Air Quality Management District issued warnings for residents of Alameda, Contra Costa and Santa Clara counties. Spokesman Tom Flanningan said people who smelled the smoke should shut their windows and stay indoors.
Ash fell from the sky like snowflakes in East Bay cities such as Danville and Dublin.
MORE: Cal Fire Incident Command Details
A total of 705 firefighters were sent to contain the brush fire burning near Morgan Territory Road - hence, the nickname of the fire. Four firefighters suffered minor injuries battling the blaze.
By Monday morning, the fire had nearly reached the peak of Mount Diablo, a stunning mountain that stands more than 3,800 feet tall. It is a popular spot for hiking among many who live in the San Francisco Bay Area.
Aerial footage from NBC Bay Area's chopper showed intense, raging flames and thick, billowing smoke shooting from around the mountain top. Parts of the fire looked like lava oozing from a volcano. Viewers submitted photos of smoke and flames stretching from Sacramento to Redwood City.
RAW VIDEO: Mt. Diablo Brush Fire
Still, fire officials said the fire's size should not reach the size of the Rim Fire, which had burned more than 250,000 acres in the Stanislaus National Forest near Yosemite since Aug. 17. But to be sure, a total of 500 firefighters were expected to help on the lines Monday, and special crews were being positioned to protect historic buildings in the area.
"This is one of the driest seasons in California history," said Contra Costa Fire Protection District spokesman Dennis Rein, adding that the blaze is growing at rapid speeds because of dry fuels and the steep terrain making access difficult.
Because of the fire's reach, the Contra Costa County Sheriff's Office had issued more evacuations: Trail Ride Road, Russelmann Park Road, East Trail Road, Upper Trail Road and Lower Trail Road, in addition to Curry Canyon Road and Oak Hill Lane, are under mandatory evacuation.
MORE: Fire Near Mt. Diablo Grows Past 800 Acres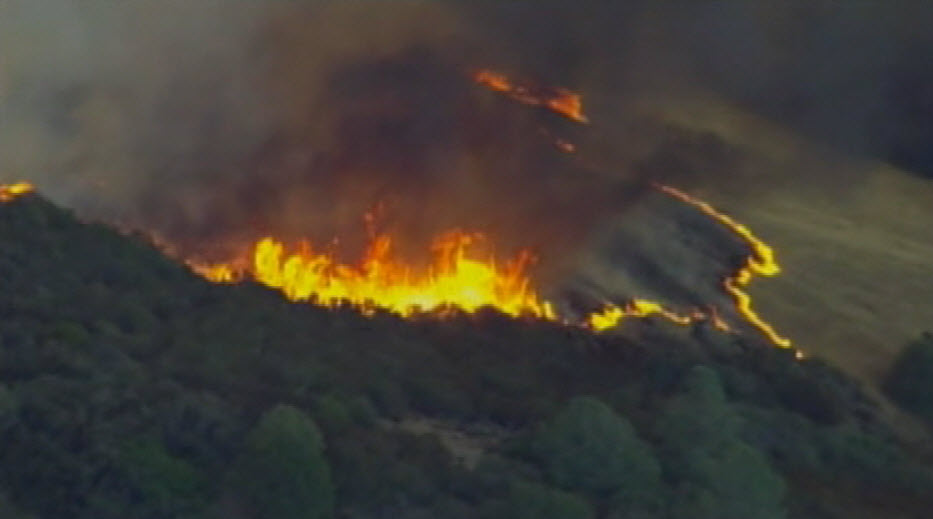 Roads were also closed to anyone except residents. Those included portions of Marsh Creek Road, Morgan Territory Road and Deer Valley Road.
The Clayton Community Library at 6125 Clayton Road was set up as an evacuation center, and the Contra Costa County Fairgrounds was being used as a safe place to take horses, cattle, hogs, sheep and goats. (For information call 925-673-0659 and 925-757-4400). The Heather Farms Equestrian Center in Walnut Creek was also taking in large animals. (For more information, please visit: www.ecwc.org or call 925-939-2929.)
The shelter didn't have that many people using it on Monday morning, but on Sunday, many nearby residents were concerned that the fire was so close to their homes.
"There's 60 acres of open land behind my house, 40 acres of open land on the other side of my house and if a spot fire hits either one of those two properties, then I'm kind of sandwiched in between," said Andy Cuellar of Clayton, a city of about 11,000. "That's the fate of most of us who live out here."
NBC Bay Area's Jodi Hernandez, Kyle Bonagura, Vince Cestone, Tim Bollinger and Shawn Murphy contributed to this report.