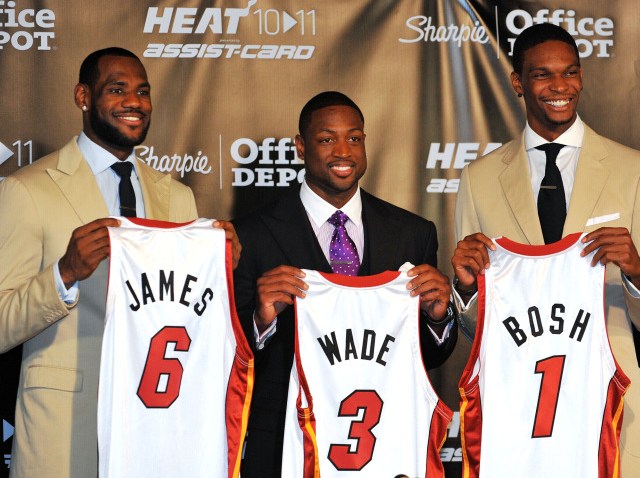 For years, Michael Jordan labored on very good, but not great, Chicago Bulls teams. He took his lumps from the Isiah Thomas-led Pistons and the Larry Bird-led Celtics before finally elevating his game, and the franchise, to a new level. Eventually Jordan was paired with a talented second banana in the form of Scottie Pippen, but there was never any doubt about who the lead Bull was.
So how did Jordan respond to LeBron James' decision to leave a Cleveland team that was close to putting it all together for a Miami Heat squad that features all-stars Dwyane Wade and Chris Bosh?
"There's no way, with hindsight, I would've ever called up Larry, called up Magic and said, 'Hey, look, let's get together and play on one team,'" His Airness said after participating in a celebrity golf tournament in Nevada, according to ESPN. "But that's ... things are different. I can't say that's a bad thing. It's an opportunity these kids have today. In all honesty, I was trying to beat those guys."
U.S. & World
News from around the country and around the globe
James, a native of Akron, left his native Ohio for the warm waters of South Beach after one of the most intense free agency periods in NBA history.
Another well-known former NBA star echoed Jordan's sentiments.
"There would have been something honorable about staying in Cleveland and trying to win it as 'The Man' ... LeBron, if he would've in Cleveland, and if he could've got a championship there, it would have been over the top for his legacy, just one in Cleveland," said Charles Barkley, the former 76ers and Suns star and current TNT analyst, in an interview with 790 the Ticket. "No matter how many he wins in Miami, it clearly is Dwyane Wade's team."
The Round Mound of Rebound even went as far to suggest that LeBron dashed any possibility of being considered an all-time great.
"He'll never be Jordan," Barkley said. "This clearly takes him out of the conversation.