Nike announced its official launch of the Nike Pro Hijab line, a head cover designed for athletic Muslim women, after speaking with several top-tier female Muslim athletes across the world.
The Nike Pro Hijab has been a year in the making and follows the brand's introduction to Middle Eastern stores, collections inspired by Nike's roster of elite female athletes, women's races, Nike Run Clubs and the Nike+ Training Club App in Arabic.
At Nike World Headquarters in Beaverton, Oregon, top-flight athletes demonstrated performance problems associated with wearing a traditional hijab during competition, the company said.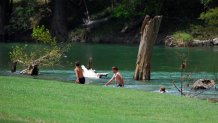 Amna Al Haddad, a female weightlifter from the United Arab Emirates, recounted how the garment's weight, the potential for it to shift during action and its lack of breathability disrupted her focus. She also detailed her extreme difficulty finding performance hijabs; Al Haddad had only one competition-worthy covering, so she had to hand wash it every night during competitions.
The Nike Pro team, responsible for creating base layers for athletes, examined how to make a performance hijab similar to Nike Pro's other products: inconspicuous, almost like a second skin.
The new garments were again tested by elite Nike athletes like the Emirati figure skater Zahra Lari and Nike+ Run Club Coach Manal Rostom. Other athletes from around the Middle East, including runners and cyclists, also gave feedback on the hijabs.
U.S. & World
News from around the country and around the globe
[NATL] Top Sports Photos: Washington Nationals Win World Series, and More
The final, pull-on design is constructed from durable single-layer Nike Pro power mesh. Nike's most breathable fabric, the lightweight polyester features tiny, strategically placed holes for optimal breathability but remains opaque, with a soft touch. The mesh is also stretchy. When combined with an elastic binding, it allows for a personalized fit that adapts to both the wearer's head and her sport. Ice skating, for example requires a tighter fit for twirling. The back of the hijab is also elongated to ensure it doesn't come untucked. Fluff threads were used at the neck to eliminate the rubbing and irritation that can occur when an athlete sweats.
At the request of the athletes, the designers placed Nike's signature Swoosh just above the left ear to highlight the hijab's pinnacle performance nature. The hijab's debut colors: black, vast grey and obsidian, were similarly based upon the consulting athletes' desire for dark neutrals.
The Nike Pro Hijab will be available worldwide starting early in 2018.