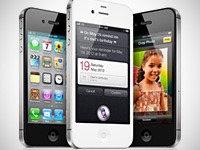 T-Mobile reported that it lost 706,000 customers in the last quarter of 2011, blaming the exodus on the carrier not having Apple's iPhone 4S.
It also said that its prepaid, pay-as-you-go plan received 220,000 new subscribers -- but those tend to be low spenders, according to the Next Web. In short, the T-Mobile report was disheartening and seemed to drive home the point that if T-Mobile had an iPhone, its fortunes would have turned.
"Not carrying the iPhone led to a significant increase in contract deactivations in the fourth quarter of 2011," said Philipp Humm, chief executive of T-Mobile USA.
U.S. & World
News from around the country and around the globe
But would it? As T-Mobile, which is owned by Deutsche Telekom AG, noted in its release:
On March 20, 2011, Deutsche Telekom AG and AT&T Inc. entered into a definitive agreement under which AT&T proposed to acquire T-Mobile USA from Deutsche Telekom in a cash and stock transaction valued at approximately $39 billion, subject to adjustment in accordance with the agreement. In the third quarter of 2011, the U.S. Department of Justice filed a complaint in the Federal District Court for the District of Columbia to block the acquisition. On November 24, 2011, AT&T and Deutsche Telekom withdrew their pending applications at the Federal Communications Commission for the transfer of T-Mobile USA spectrum licenses to AT&T as part of AT&T's acquisition of T-Mobile USA.
The whole deal imploded on Dec. 20 with AT&T giving T-Mobile's parent company $3 billion to slip the noose. It's still unclear what happened -- although it's likely because AT&T received negative information about the deal or T-Mobile itself. If the DOJ was never going to let it happen, it would make sense that AT&T would cut its losses. (And T-Mobile is using those billions and spectrum to make upgrades to its network, including LTE.)
So, while some of the customers may have left because they couldn't get an iPhone, others likely left because they didn't want to be part of AT&T or other customer service-related reasons. While it's easy to pin the reason for hundreds of thousands of customers leaving on an outside force, the real reason was probably something a lot closer to home.