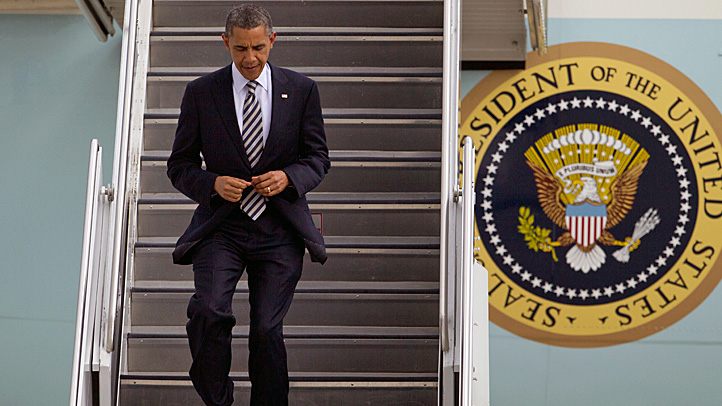 Don't look now, but the Obama Steam Shovel just took another chunk of money from California for the president's re-election campaign.
The president has been here so much lately that he almost qualifies for residency. This week's visit marked his 16th trip since being elected, and third within the past month, but surely not the last.
To date, according to Open Secrets, 20 percent of all money raised by Obama has been here in California, where he has brought in about $41 million. He was expected to take in another couple of million this trip.
U.S. & World
News from around the country and around the globe
Presumptive Republican nominee Mitt Romney has garnered $10 million in the Golden State (at least when it comes to presidential fund raising) through May, or slightly more than 10 percent of his fundraising take.
There's no question that Obama will carry California in November. The bigger question is whether the purse strings of California Democrats will be able to carry Obama to re-election. He'll need all the help he can get.
Thus far, spending for Obama has totaled about $550 million, including money raised by the Democratic Party and money spent by the Super PACs. Spending for Romney has amounted to about $450 million, counting the same sources.
But with the lid blown off spending limits by the Citizens United case, most observers expect Romney to attract several hundred million dollars in Super PAC expenditures.
The Democrats will count on organized labor more than ever, but whether Big Labor can match the checks of Republican donors remains to be seen.
For Obama, two of his best sources will be in California, where more than ever he will lean on the gay community and Hollywood. Both were disproportionately in the Obama camp in 2008, but will be sought after even more in 2012, especially since Obama is not likely to be as popular with the Wall Street crowd as he was in 2008.
But don't worry if you missed Obama this week. He'll be back soon with his campaign steam shovel close at hand.
Larry Gerston teaches political science at San Jose State University and is the political analyst for NBC Bay Area.
Send us your thoughts via Twitter @PropZero or add your comment to our Facebook page.